You can read a little about me in the "Meet The Bloggers" section, but I'll go in to a little more detail here. My name is Jake Fahlsing and I am one of the new product development engineers here at Corksport. I was born and raised in Minnesota, but have lived in Colorado, Kansas and the UP of Michigan (where I obtained my degrees at Michigan Tech). At 25 I am one of the youngest guys here, but with that comes a fresh mind from a different generation (not saying that anyone here is old).
I was involved in the Formula SAE team at Michigan Tech. For those that don't know what that is: It is a school sponsored team of students that put their engineering and business skills into a real world application. The FSAE team must design and build a new car for every competition (held in mid May, usually at Michigan International Raceway). Using a Honda CBR F4i engine as our starting point, we designed, tested, manufactured and installed everything from the space frame tube chassis, to the rear diff housing. I was the controls team leader and competition driver of the vehicle. I was in charge of the brakes, throttle, shifting, impact attenuator, and dash along with the people working on those parts. I have personally designed and built several components for the car, but my latest project was a set of lightweight paddle shifters and shift linkage. Once at competition, we competed in several events including 1,000ft acceleration time, brake test, skid pad, an autocross course, and a 22km endurance race (which is also judged on fuel economy, not just time). Also, we were judged by senior level engineers from several Fortune 500 companies on design and sales presentations. With a budget usually around $12,000, it makes for several late nights in the shop and many team members calling around for donated materials and parts. The picture is of the 2008-2009 school year vehicle.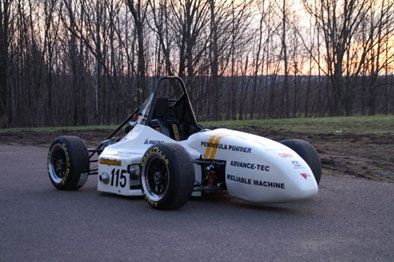 After finishing school (BSME & MBA), Corksport seemed like the perfect fit for me. The innovative design, quality, and attention to detail are what drew me here. As a product development engineer for Corksport, I hope to bring in some new ideas that you will see released in the not too distant future.
I love designing new products and seeing them through to the end. Nothing is more rewarding than having a customer say they loved a product that was something I designed, created, and tested. I have found in previous design projects, that a combination of new age technology (Computer Aided Drafting, Finite Element Analysis, and Computational Fluid Dynamics) combined with old fashion hands on engineering, fabrication, and testing is what makes a product successful.
The best product ideas come from the customer, and without you, we would not be in business. So if you have a good idea for a new product, be sure to go to our main page and click on the product ideas link.
Being new to the area comes with all sorts of little things that I am constantly learning. For example, you can't pump your own gas in Oregon (I found that out for myself)? And it's pronounced "Organ" not Oregon? Also, people love their speed bumps. Finally, I will never again leave my sunroof open while going in to a store if even for 5 minutes. The weather here can change from blue skies and sunny, to dark and rainy in seconds. I'm sure I could create an entire post on this, but I'll leave it at that.
– Jake