CorkSport is proud to announce the new Lower Control Arm Tie Bar for the 2007-2013 Mazdaspeed 3. The lower tie bar is designed to increase the stiffness of the front sub-frame assembly to improve driver feedback by reducing wheel hop and torque steer.
The CorkSport Lower Tie Bar works by connecting the front LCA inboard pivots together to add stiffness to the front of the sub-frame assembly as shown below.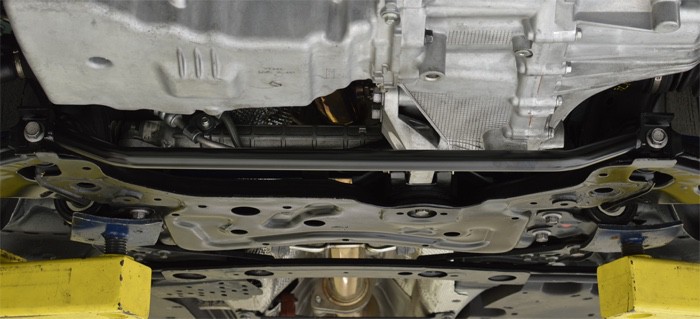 To fully understand how the LCA tie bar is actually providing stiffness, let's look at the forces at play in the front suspension. In the image below you can see three different color arrows. Each of the arrows represents an applied or resultant force in the suspension. The red arrows represent the force the tires apply to the ground to accelerate the vehicle and maintain speed – these are the applied forces. The blue arrows represent the resultant force to the sub-frame from the tire force. Without the LCA tie bar, the resultant force goes directly into the sub-frame and specifically into the ends of the sub-frame that will sit out in space without major support. This U-shaped sub-frame represented by the green U in the diagram is then able to flex, allowing the suspension to move in undesirable directions.


Now let's add in the LCA tie bar which is represented by the yellow arrows. The lower tie bar connects to the sub-frame directly where the tire's resultant force transfers into the sub-frame. Now the tire's resultant force is applied to the sub-frame and the opposing side. This allows the tire forces to push against each other instead of pushing against the sub-frame.
The CorkSport Lower Tie Bar has been daily driven and track tested with good feedback. The driver felt an improvement in suspension feedback and was able to hard launch the car more consistently with the LCA bar installed. You can improve your driving experience with the CorkSport Lower Tie Bar.