I've met a lot of amazing people thanks to my Mazda 3 Sport, but Yolanda Sampson (Instagram: @bluehalogirl) is the one I blame for this addiction we call "modding." When we met, I hadn't done much to my car yet, just a couple minor things like tinted windows and tinted taillights. She had a feeling I'd be into meeting some more like-minded locals and invited me to a meet. We got along like only two Mazda nuts could, and it was game over for me.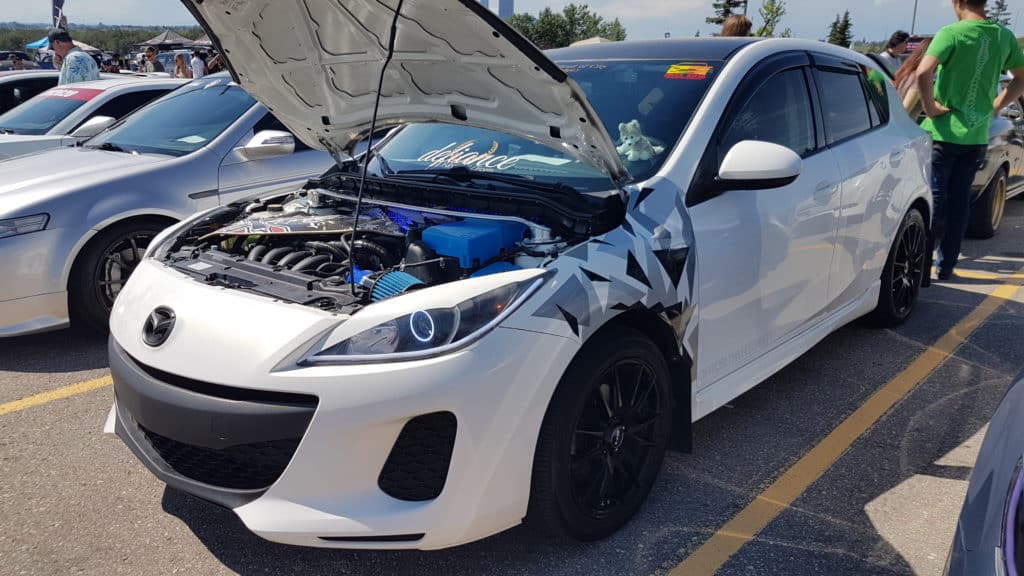 Not long after, I started on my Mazda's cosmetics (since I still had some warranty left). The hood, roof, and hatch were dipped in "Black Betty Pearl." The headlights got a retrofit with painted housings and LED halos/strips. By that point, I was hooked!
Then it happened — my warranty ran out. I was finally free to have my way with the rest of my car. I took a look at a few options and decided to give Corksport a try. I hit "Checkout" and waited (im)patiently for the delivery truck to arrive. In much less time than I was expecting for a USA-Canada shipment, my new parts arrived and I wasted zero time in getting the Power Series SRI and Exhaust (with racepipe!) installed.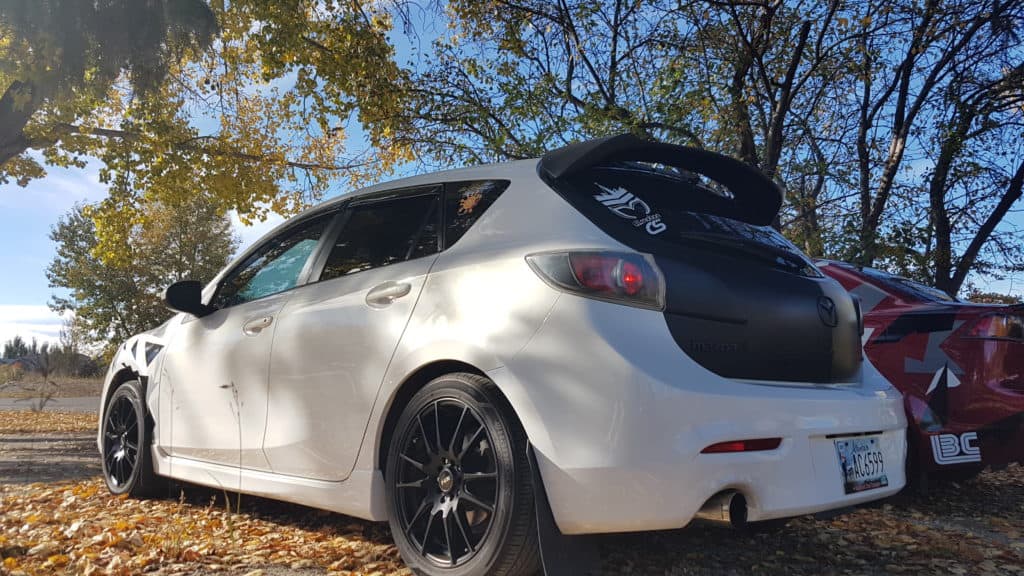 Afterward, I did what any car guy would do and went for a drive. It all sounded great idling in the parking lot, but that just didn't do it justice. So I hit the road to make some noise, and damn, did it ever make some noise! The subtle hiss of the intake, the aggressive brapp of the exhaust, the immense glee as I childishly floored it through every tunnel and underpass in the city. I still go on solo drives just to listen to it; it's just perfect!
I couldn't stop there, though. I was addicted. Next up, the Corksport Adjustable Short Shifter and Shifter Bushing Set, plus a hand-made 400g-shift knob, were installed. The short, snappy shifting made an incredible difference, and I still recommend this combo in particular to someone looking for a subtle but car-changing mod.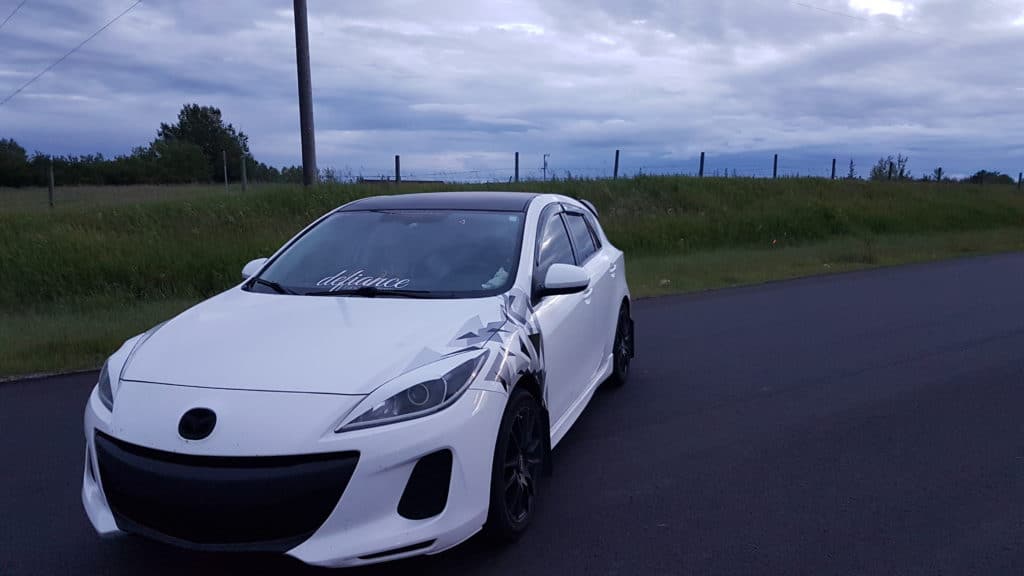 Next came the Corksport Front Strut Bar to clean up the body roll this car was plagued with. I found myself unable to resist treating every corner like it was part of a track. Most recently I had the car tuned. The intake and exhaust did a great job allowing the car to breathe better, but it needed a little more. I got in touch with Matt at OrangeVirus Tuning, and he had his way with my ECU. He's a magician, and really did an amazing job to help the car use the Corksport goodies to its full potential. We're squeezing that little 2.0L for every drop of power, and I'm quite impressed with what we got out of it. Now if only Calgary can just get a proper track again …
Through all of this I was repeatedly blown away by the staff at Corksport. I can tell it's not just a job to them, it's a passion. They eat, breathe, and bleed Mazda! To this day, they are the only company I ever have or ever will exchange Christmas gifts with. Yolanda and I sent them a calendar featuring our cars, and we got a box of swag and handwritten cards in return. The social media mentions, the random notifications that pop up saying Corksport liked something or had something to say, or just straight up using my car to show off … it all makes my day!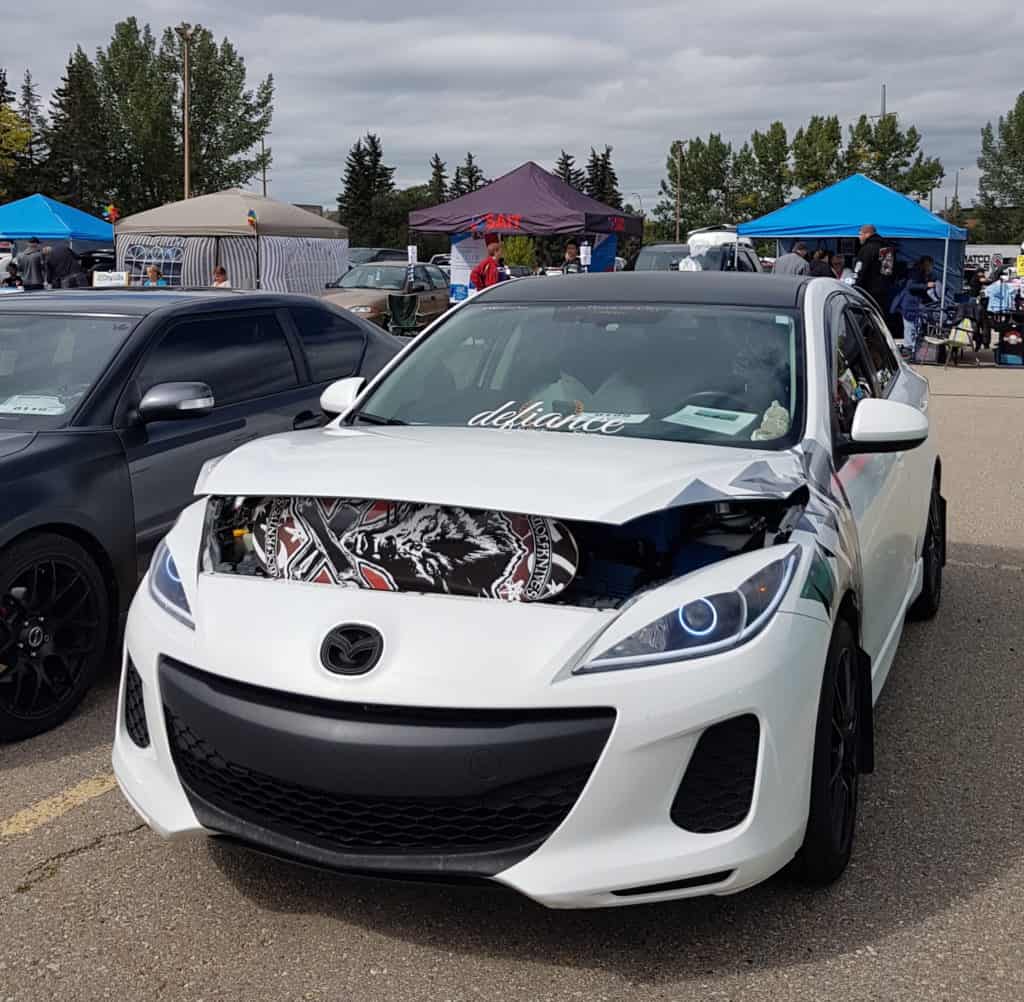 I love you guys. Keep doing EXACTLY what you're doing — don't you dare change! And please — please — make a turbo that won't kill my little 2.0L. 😉
– Keith Coughlin (Instagram: @keith403)
2012 Mazda 3 Sport