Introducing the Aluminum Oil Catch Can and Drain Valve Kit:
After many months of studying our previous design and listening to you, we are proud to announce the CorkSport Aluminum Oil Catch Can. The new and improved CorkSport Oil Catch Can will help rid your vehicle of contaminants, sediment, and other unwanted crankcase particles that can cause damage and premature wear to the engine components.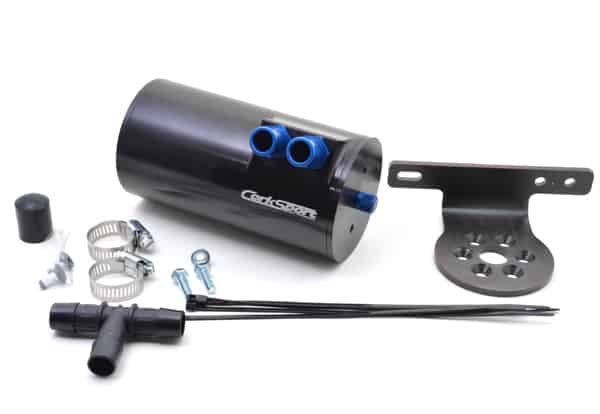 The added protection that an Oil Catch Can provides will increase the longevity of your engine. The Oil Catch Can is made of billet aluminum for strength and lightweight. Everything needed to install on your Mazdaspeed 3 is included, even the mounting bracket.
Don't let your Mazda get contaminated by sediment, crankcase vapors, or unclean oil. With the CorkSport Oil Catch Can you will remove unwanted debris that would normally contaminate the intake tract. This allows for cleaner air entering the engine, lower detonation rates and increased longevity. Complete with 11 feet of reinforced silicone hose you can mount the Oil Catch Can in multiple locations.
For added convenience we have developed the Oil Catch Can Drain Valve Kit which can be purchased for $29.99. Draining your Oil Catch Can becomes a simple matter of twisting one lever with this simple to use kit. With both the Oil Catch Can and Drain Valve Kit you will have an all-in-one system for prolonging the life of your engine by keeping it clean.
You can read more about why a catch can is a good idea and why a catch can from CorkSport is an even better idea here:   https://www.corksport.com/blog/the-dangers-of-direct-injection/   and here:  https://www.corksport.com/blog/the-inner-workings-of-the-corksport-oil-catch-can/
The CorkSport Oil Catch Can is available online for $199.99, or with the Drain Valve Kit for $224.98. Visit the listing at: https://www.corksport.com/corksport-aluminum-oil-catch-can.html
You can buy the Oil Catch Can Drain Valve Kit Separately for $29.99. Visit the listing at: https://www.corksport.com/corksport-oil-catch-can-drain-valve-kit.html