It is hard to believe that it is already time to start making selections for CorkSport's next calendar, but November will be here before you know it and due to the huge success of our 2012 calendar, CorkSport has plans to offer a 2013 calendar for all of our fans to enjoy again in the coming year!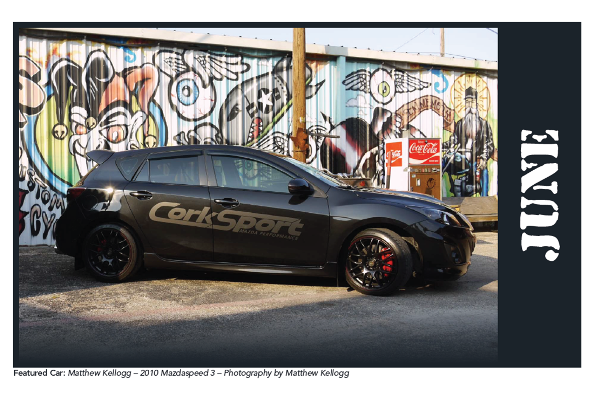 Would you like to see your car in our next edition of the CorkSport calendar? Well now is your chance. This post is an all call for photo submissions for the 2013 calendar.
Requirements for submissions are as follows:
Must have high quality photos of your ride. No iPhone or Android pics please.
Include a list of modifications, and yes, of course we want to see lots of CorkSport mods, but will consider all submissions.
You must have permission to use the photo and by submitting for the calendar you are granting CorkSport permission to use the photos in print and on the web to promote the calendar and our products.
If possible, please remove the license plate, avoid shots of the license plate or photoshop out the license plate.
If your photo is selected for the calendar, a complimentary calendar will sent along to you upon release.
As we did last year, the proceeds of the calendar will be going to another worthy cause. If you have a charity that you support and think CorkSport should look into donating the proceeds of the sale to it, let us know!
Please submit all photos, questions, and charity ideas to Gwynne at gwynne@corksport.com and remember, CorkSport supports the full lineup of Mazda vehicles, so whether you drive a Speed3, a Miata, a CX7 or a Cosmo, if you have a nice ride and a great pic, CorkSport wants to see it!
Gwynne