CorkSport spent Friday and Saturday soaking up the summer sun at the Round 5 Pro Championship Formula Drift at Evergreen Speedway in Monroe, Washington. The weather could not have been more perfect; blue skies and moderate temperatures welcomed us on both days. I was joined by our lead engineer, Andrew and our shop manager, Dustin and we brought out our Rx8 and Mazdaspeed 3 to show off our CorkSport parts during the show.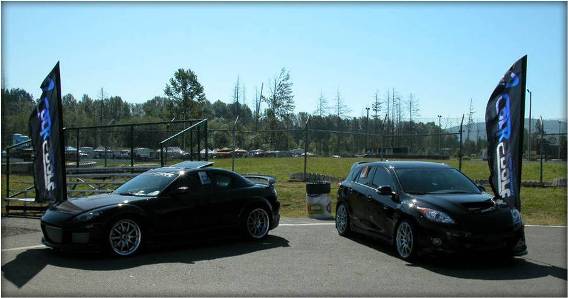 Participating in the drifting event over the weekend were four Mazda's. Two Rx8's, a FD Rx7, and a FC Rx7. The two Rx8's and the FC were part of the Formula D pro series and the FD was participating in the Pro-Am event.
The first Rx8, raced by Kyle Mohan of KyleMohanRacing out of California, is powered by a 13B turbo engine which generates 525 wheel hp through a liberty transmission.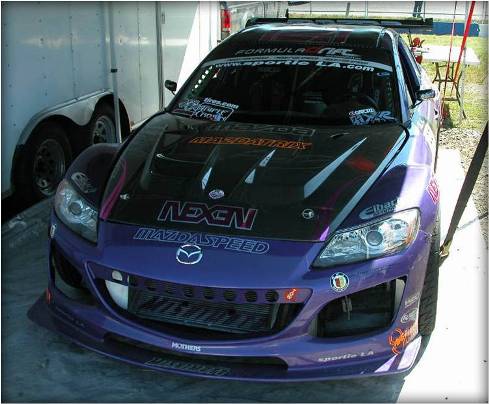 Kyle made it to the Great 8 round despite an ambitious chase car that hit Mohan's in the round before, bending a tie rod end, which required some fast service work on his car. Unfortunately for Kyle he lined up against Rhys Millen and did not make it to the final 4 to compete for a trophy.
The second Rx8, built by Bergenholtz Racing and driven by Joon Maeng, is powered by a turbocharged 20B putting the power down through an HKS sequential 6 speed. The exhaust note of the engine is crazy loud but incredible sounding.
Joon was knocked out in the top 16 round after he had what looked to be a problem with a gear engagement on the last corner.
The last Pro entry Mazda was an FC Rx7 driven by Charles Ng and prepared by Evasive Motorsports.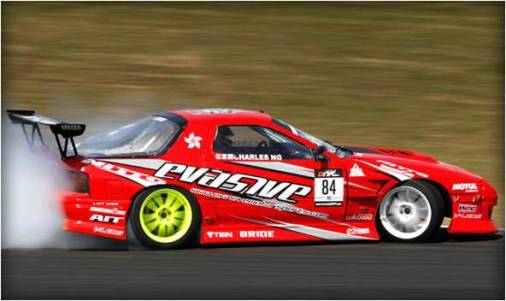 Unfortunately this Rx7 was not running a Mazda power plant and went the path of an LS7 V8 making it undeserving of any close up pics, but we did get some video of his run. Charles qualified for the event in 20th but was knocked out in the first round of 32.
The FD Rx7, competing in the Pro-Am Formula D event and driven by Tyler Wolfson from Del Mar, California was the most entertaining story of the weekend, even though we regret that he suffered the worst ending. Tyler is currently working toward a Pro license for Formula D by racing in the Pro-Am events in his FD Rx7.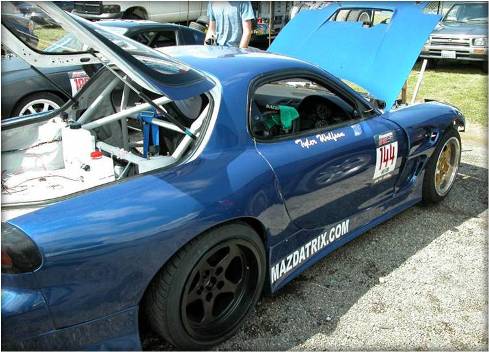 He had an unfortunate part failure that left his car disabled and despite putting up a sign in hopes of getting onto the track, no one offered up a spare part and after a few hours and a post on Facebook, it was apparent there would be no luck in getting a transmission for the disabled FD.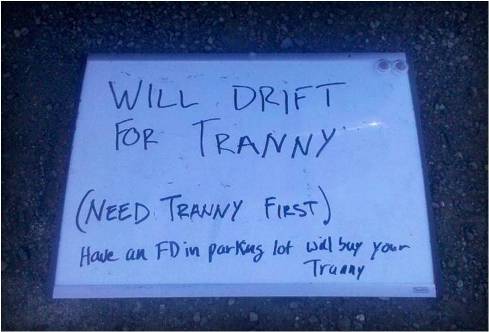 On Saturday, Wolfson gave it one more shot by making an appeal for a loaner, but with no luck on that front either, he relented and got to hang out and enjoy the show with the rest of the spectators. We wish him luck in the upcoming drift events this year.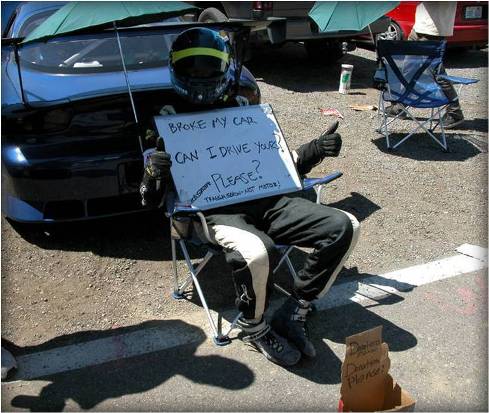 We had a great time talking with the racers and our customers at last weekend's race and look forward to next year's event.
-Derrick