Jordan has always been a fan of rotary engines. His first Mazda was a 1988 RX7 T2 that he bought and then rebuilt and street ported the engine on, so it is no wonder that when the RX8 came out, Jordan was hooked.
His father always owned Corvettes and Porsches and Jordan has owned several sports cars throughout his driving career and, but nothing gives him the satisfaction quite like his RX-8 does.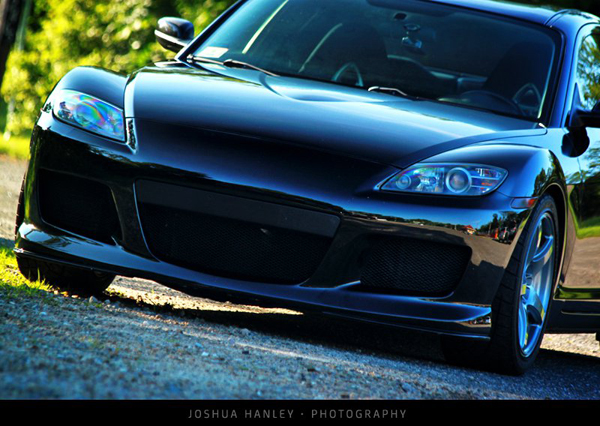 Standard, the 2004 RX-8 comes with a 1.3-liter 250 HP rotary engine that is like no other. Jordan then added in a Mazdaspeed Modified Intake and a CorkSport Single Resonated Exhaust to give the car some extra boost and decibel levels 20′ outside the car off the back bumper that are 64dB at idle, 95dB at 4000rpm and 103dB at 5000rpm free rev. Inside the car it posts 72dB at 38mph in 4th gear, 94dB at 30% throttle acceleration in 4th gear and 88dB at cruise 60mph in 6th gear.
He also modified the engine with a Flex Innovations Grounding Kit, CorkSport Oil Cap, a Universal Oil Catch Can and Black Halo Racing Ignition System.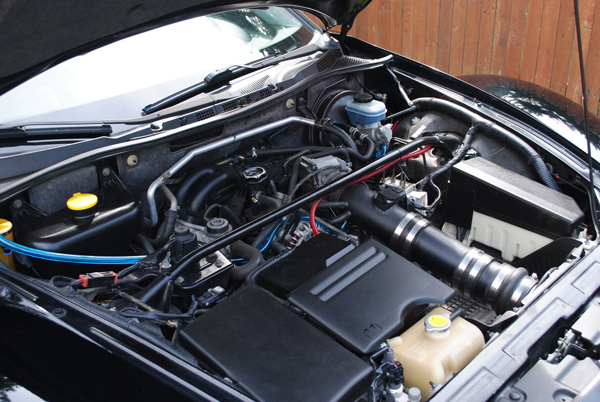 The RX-8 features a double-wishbone suspension at all four corners. The upper and lower arms in both the front and rear are considerably longer and allow for consistent grip regardless of changes in roll and camber for top-notch cornering performance so Jordan hasn't done much yet to the suspension, but now that he has gotten into autocrossing, he will be looking into getting some suspension mods. He plans to swap out his Tein S-Tech Lowering Springs for a set of coilovers and add a CorkSport Front and Rear Strut Bar Set to further improve his lap times.
To enhance the sporty look on the car, Jordan has added a Mazdaspeed front bumper, Mazda Clear Corner Lenses and 35% window tint in the front and 20% in the rear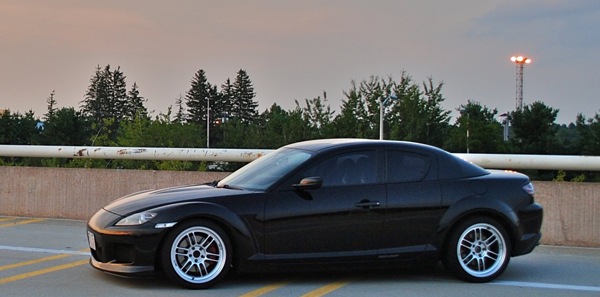 "The car is beautiful and gets looks from people everywhere I go," said Jordan, "It is also a huge amount of fun around the autocross track. And did I mention it has a rotary engine?"
When Jordan isn't working, he is spending time with his longtime girlfriend and fellow Mazda enthusiast, Domii, who you may recall was profiled in our September feature.
They are both looking forward to the autocross season and we look forward getting updates on how this Mazda match made in heaven do on the track this coming year!
You can also check out his progress on his project car at his blog.
Gwynne-
Full List of Modifications:
Engine
• Flex Innovations Grounding Kit
• Corksport Oil Cap
• Universal Oil Catch Can
• Black Halo Racing Ignition System
Intake/Exhaust
• Mazdaspeed Modified Intake
• Corksport Single Resonated Race Pipe
Transmission/Drivetrain
• Axial Flow Engineering Short Throw Shifter
Suspension
• Tein S-Tech Lowering Springs
Footwork
• Axxis ULT Brake Pads
• Agency Power Stainless Steel Brake Lines
• Toyo R1R 265/35/18 Tires
• Enkei RP03 Racing Wheels 18×9 et35
Exterior
• Mazdaspeed Front Bumper
• Mazda Clear Corner Lenses
• Window Tint 35% Front, 20% Rear
Interior
• Voodoo Piano Black Shift Knob
• RedlineGoods Custom Leather Shift Boot
Electronics
• Escort Passport 9500 Radar Detector
• Pioneer Avic F-700BT Navi
• 10″ Boston Acoustics G10 Subwoofer in Custom Fiberglass Box