We are clearing off the shelves to make room for some exciting new products that we have in store for this year so CorkSport will be discontinuing certain less popular parts.
Brand Reductions or Eliminations:

AutoExe: The significant increase in the exchange rate with the yen has made many of the AutoExe parts exorbitantly expensive for our customers and slowed sales of their products considerably. We have made the decision to drop the roughly 400 parts of theirs we had listed from our website. We very much appreciate the partnership we've had with AutoExe for many years. They are an excellent company and we still recommend their products to anyone that can afford their premium price.
J-Spec: We source Mazda Genuine parts from the Japanese market. Again, the exchange rate with the yen slowed sales of these parts so we have decided to drop the slow sellers from our catalog.
CorkSport FRP Styling: Fiberglass (FRP) has fallen out of favor over the past 5 years. As new (younger) customers have come to the market who are not familiar with FRP and superior materials have become available, FRP doesn't make as much sense anymore.
We are clearing out all FRP bumpers, side skirts, and rear spoilers from our catalog. This represents roughly 50 CorkSport brand parts most of which are for 86-91 Rx7 and 90-94 Protege. We will still be selling the more popular front lips and other small styling parts built from FRP.
As CorkSport develops new styling components for Mazdas, we will be transitioning to other types of durable plastics in place of FRP.
Here is a link to clearance parts that will be available for a limited time if you are interested in purchasing any of these parts before they become unavailable. We've also denoted the affected parts in the model specific catalogs with a 'Clearance' notation in the product title.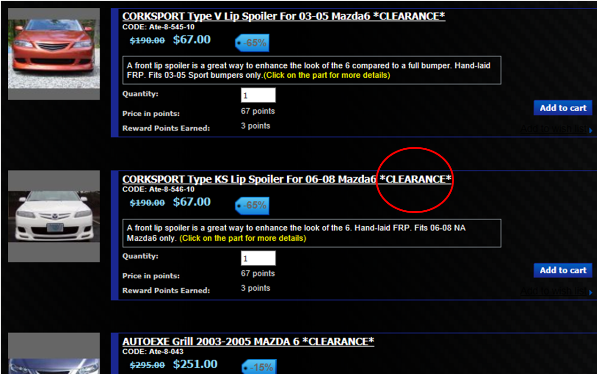 Do not worry if you purchased any parts on the discontinued list. We will we will still honor any warranty or customer service related items on these parts, we are just discontinuing them from the site.
If you have questions or concerns about the pending changes to our inventory, please feel free to send us your feedback at questions@corksport.com
Gwynne –