Matthew Kellogg almost got sucked into the American muscle car scene when he was 19. Thankfully his older brother owned a 2nd gen RX7and as soon as he got his hands on his brother's ride, everything changed. He had an immediate love for all things Mazda.
He too was once the proud owner of an RX7 GSL, a 1984 model that he purchased with 189,000 miles on it and a rebuilt Rotary engine. He owned the car for five years before he could finally bring himself to part with it in 2002. He finally traded it in and moved on to a Honda Civic, which until 2007 put him on the fast track to success in the car world as a sponsored driver when he made the decision to join the ARMY in order to give back to his country.
Now that he is back in civilian life, he has moved on to a more sophisticated model with the 2010 Mazdaspeed 3. He describes it as having mesmerizing torque and power, which anyone who has driven one can agree with, and loves the car for its uniqueness, handling and performance.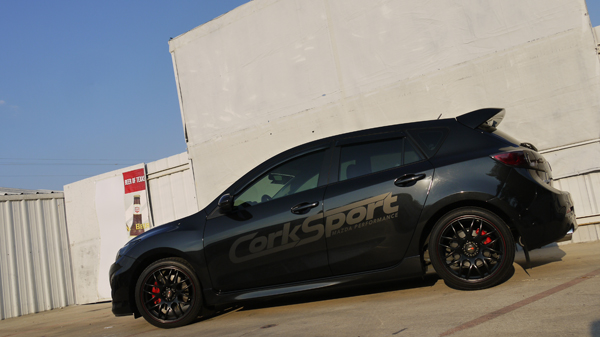 He has recently gotten back into the show scene and started modding it out. For more power and speed he added a CorkSport Top Mount Intercooler, Short Ram Intake and Cold Air Box, Forge V2 BPV, KMD hpfp internals, test-pipe and cat-back along with a Dynotronics Piasani ECU Street Tune with all the restrictions removed netting him a tuner estimated 345BHP and 295 lbs ft torque.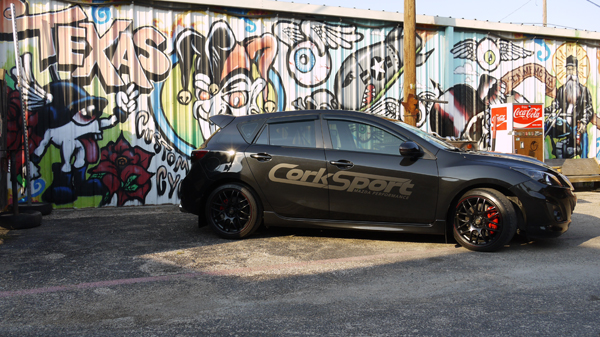 Styling on the car has also been a focus for Matt. He went with 18×7.5 Drag DR-34's, matte black wheels with a red edge stripe, and black Gorilla tuner spline drive lugs. He added DDM low beam HID headlight retrofit and red ceramic painted calipers, a CorkSport Stubby Antenna, CorkSport Mud Flap Set, and added blacked out baked headlights and tinted rear tail lights and turn signals, blacked out fog light surround rings and blacked out emblems.
As a commissioned officer in the Texas Army National Guard, Matt has had three and a half years of active duty including a one year stint in Afghanistan and in the meantime got married and had a son, but his goal, as his service in the military winds to a close, is to one day own his own speed shop in Texas.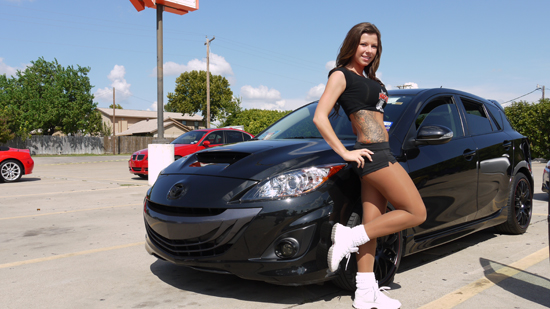 For now you can find him back in the car show circuit with his first win coming in at the Hooters Car Show in Killeen TX 2010, or on Mazdaspeedforums.org, mazdas247.com or the rx7club.com. He is also working on starting a new Texas club and speed forum.
Gwynne-