CorkSport is pleased to announce the latest addition to our product line-up, the premium-quality CorkSport Mazdaspeed Top Mount Intercooler (TMIC). The newly engineered TMIC is made from CorkSport's own custom cast end tanks which are TIG welded to a 3" thick bar and plate core, providing added performance by removing the bottleneck restriction of the stock intercooler and increasing resistance to heat soak by using thicker materials. The cold pipe connection is CNC milled and drilled for a leak proof connection and all bolt holes have been capped off.
CorkSport's innovative design allows for the reuse of the Mazda OEM plastic shroud leaving your engine bay looking completely stock; however an optional aluminum ring has been made available and can be customized to compliment the finish of any engine bay.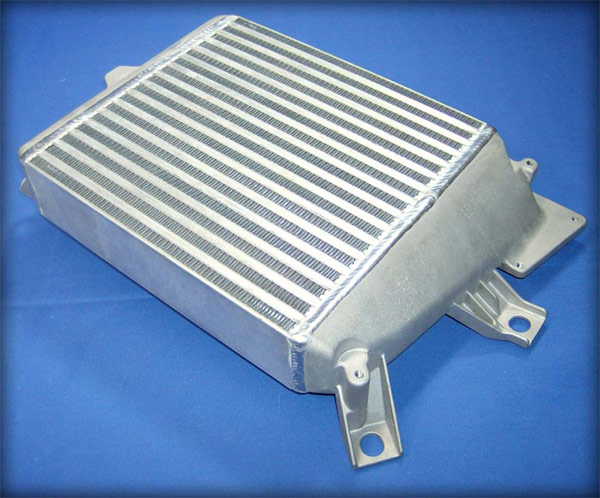 The CorkSport TMIC has been vigorously tested to ensure optimal characteristics. Testing completed on a SuperFlow test bench proved a 46% increase in airflow over the Mazda OEM intercooler. During the testing, the CorkSport TMIC showed an average decrease in pressure across the core by 53% and an increase in overall efficiency of 25% over the stock intercooler.
"After many months of design, testing, and data collection, we are proud to release our highly anticipated CorkSport Top Mount Intercooler", said Rich Harris, President of CorkSport, "Our TMIC provides solid power gains and is a great value add to the Mazdaspeed 3, MazdaSpeed6 and CX-7 turbo. Pre-sales of the product have shown a strong demand in the marketplace for the newest addition to the CorkSport line".
The CorkSport Top Mount Intercooler is available now for purchase at www.corksport.com or by phone at (360) 260-CORK. The CorkSport Top Mount Intercooler features full color installation instructions and comes with all the required installation hardware.