Corksport Q&A
In January, we wrote a post answering questions our fans asked. It went over so well we wanted to do it again. Here are the top 7 questions we found on Facebook, Instagram, and Twitter:
Question: Would you guys consider making a turbo kit for the SkyActiv engines? What challenges would you face with that engine compared to the MZR engine?

Questioner: Michel Balk
Answer: There are a few key factors that would prove difficult to overcome when turbocharging a Skyactiv-G engine. First is the extremely high compression ratio of 13-14:1. High compression ratios and boost don't mix well, and the supporting engine design to run that high of a compression ratio is very sensitive to major engine changes. For example: The exhaust manifold is a very well-engineered 4-2-1 design that is critical to running a high compression ratio on 87 octane fuel without pre-detonation. A typical turbo kit would replace the exhaust manifold which could cause many unknown issues. Second comes down to the overall design of the engine. Mazda has made it very clear they are chasing fuel economy, not white knuckle power. So, looking at that goal from a business standpoint, why would Mazda design the engine to handle 250+hp? That would only cost them more money. The engines are lightweight in every aspect: bearing size, connecting rods, pistons, crank…the list goes on. The SkyActiv-G engines are not built for power. Lastly, what good is a turbo kit if you can't tune it correctly? As of right now there is not an effective method to tune the SkyActiv-powered vehicle. It's unfortunate, but a turbo SkyActiv-G is a long shot.
Question: Give us all the info about the new CS turbo in production!

Questioner: Jeromy Williams
Answer: Well I can't go and spill the beans, but I can give you a few tidbits of information. The goal of this turbocharger is not huge power numbers. Actually I would be in shock if anyone could get this to push 400whp with meth. The goal is to provide a turbocharger that cost only slightly more than a new K04 and is 100% bolt on. When I say bolt-on, I don't mean "bolt-on" like BNR and ATP define it. This turbocharger requires no modifications to your current intake and exhaust systems; and no modifications need to be made to the oil and coolant lines. It's like swapping in a new K04, but with much more power potential and no blue smoke. This effectively makes the turbocharger cheaper for the customer because none of the supporting sub-systems need to be upgraded or modified. As for some specs: Power is comparable to a BNR S3, and full spool is in the 3000-3200RPM range—depending on vehicle components. The current tune on my car is reaching 21PSI at 3200RPM with the CS EBCS running in bleed setup, and that's on the prototype turbo without the billet compressor wheel.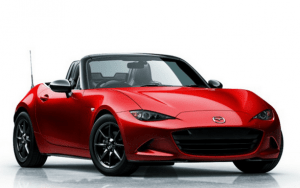 Question: Will you be doing more products for Miata?
Questioner: Steve Linnehan
Answer: We are very excited about the new MX-5 Miata hitting our shores in the near future. The CorkSport sales manager is going to buy one as soon as possible. We plan to produce a respectable lineup of performance products for the new MX-5 Miata. From suspension to power, we will help you put some more pep in the Miata's step, so stay tuned!

Question: What do I need to put more HP on my 2012 Mazda 3 2.0i SkyActiv?
Questioner: Brayam Calo
Answer: CorkSport has a couple options for your dilemma, Brayam. Combining our SRI, Cold Air Box, and Power Series Catback Exhaust System showed impressive gains for the little 2.0. On our dyno, the stock 2.0 made 118hp/110lbft, but when we added the components above, we saw power increase to 135hp/123lbft. This is a respectable increase in power for a naturally aspirated engine.
Question: What is an approximated max horsepower output that can be produced in an MS3 without upgrading turbo back?
Questioner: Christopher DeCaro
Answer: This is a difficult question to answer accurately as there are so many factors that play into the maximum power of an engine. The OEM downpipe is extremely restrictive on the MS3 and is commonly recommended as one of the first upgrades. Our dyno testing showed a 50hp increase over stock with only a Stage 2 intake, downpipe and racepipe installed. So as you add more components and eventually go with a larger turbocharger, the loss in power from the OEM downpipe will only increase.
Question: Is there a way to have the engine RPM drop faster while shifting or revving from an idle?

Questioner: Matt Zoomin Brown
Answer: The rate at which an engine can rev up or down comes down to simple physics: "Force = Mass x Acceleration". You often hear of people upgrading their flywheel from the OEM steel piece to a lightweight steel or aluminum/steel two-piece flywheel. By reducing the weight of the flywheel and the rest of the rotating mass of the engine, you effectively reduce the amount of energy needed to make the engine rev up. The opposite works for revving down. The greater the mass of the rotating assembly, the more resistance need to stop the rotation—or the longer it takes to spin down. This is a result of the "Moment of Inertia" of the rotating mass.
Question: I would like to turbo my 2010 2.5 N/A Mazda 3, what do I need to know?
Questioner: Cynthia Senger
Answer: Like everyone else I'm going to recommend you sell your car and buy a car that was turbocharged from the factory, but for the sake of argument and fueling the fire I can point you in the right direction. The 2.5 N/A engine and the 2.3 turbo engine are very similar in design. I would start with buying a blown turbo engine, removing the exterior components, and then modifying them to work on your engine. Now the easy part is done… Next, you will need some way to tune the vehicle because turbocharging an engine that was not designed to be turbocharged is not a simple bolt-on affair. If you get past these two major hurdles, then bravo! Unfortunately, unless you improved the engine internals to handle this power, the engine will probably not live long with the added stress of its newfound power. Back to the first option: Buying a Mazdaspeed 3 makes a lot more sense in many aspects. Reliability, durability, and aftermarket support make big power much easier to achieve. Granted, a Mazdaspeed 3 may be more expensive to buy upfront, but I am almost certain it will be cheaper in the long run and will come with far fewer headaches and days without a car. I wish you the best of luck!
Thank you for your questions and keep them coming. We'll have a Q&A every month for your Mazda performance questions.
#ZoomZoom