Here's the story, CorkSport is looking for Mazda dealers willing to sell our products directly to you. We have several already who are great, and are more than willing to sell our products.
For example, we have a dealer in Canada that regularly sell our products and has them on display in their showroom: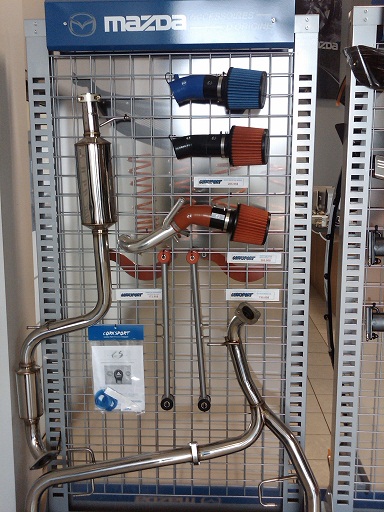 Chambly Mazda In Chambly, QC does a great job representing CorkSport brand parts. We encourage you to check them out if you are near them.
If you know of any dealers that are kind to customers with aftermarket parts, we would like to hear from you. What's in it for you? Well, you can take a first hand look at our parts before you buy them and then get the dealer to install them! Plus, if they have the parts in stock, you get it the same day.
So if you know of a 'mod' friendly dealer near you, let us know and we will do our best to get them to carry CorkSport brand parts!
– Chris