It really doesn't feel like 20 years since the Miata was introduced by Mazda back in 1989. I remember the first time I saw one of them. I was on a family vacation to Canada riding bicycles on Vancouver Island in British Columbia and I saw one in a parking lot. It made me stop and go "Wow, that's a Mazda?" I was still in high school at the time and my only experiences with Mazda were older RX-7s and getting rides to school on snowy days in a 323GTX.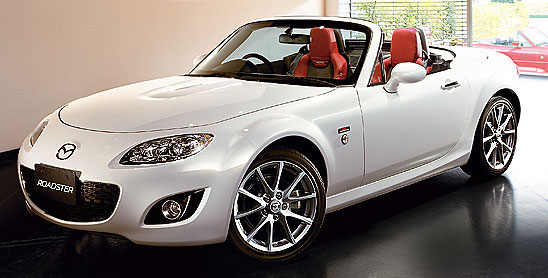 Now, 20 years have past and Mazda is offering a special anniversary edition of the MX-5 (called a Roadster) in Japan. The car is going to be offered with either a power retractable hardtop or a soft top, in special all white paint. The car is equipped with Bilsteins shocks, "20th Anniversary" badges, and heated red Recaro seats with suede inserts, which can be seen below. Some of the optional equipment available are the Bose Audiopilot system and multi-spoke BBS wheels.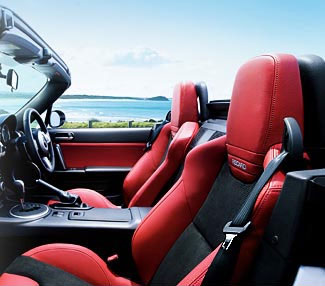 My only hope is that North America gets the special edition MX-5 as well. Look at the following the 10th anniversary RX-7 received back in 1988, they are still one of the RX-7s to own for the 86-91 models if you are a die hard collector. If the 20th anniversary model MX-5 makes it here I am sure it will sell out.
– Derrick