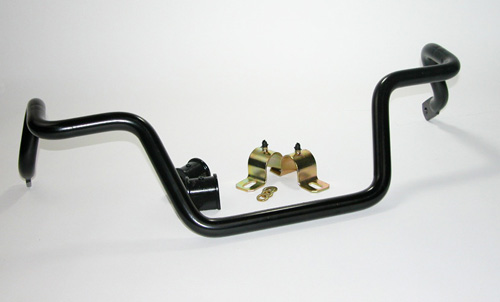 CorkSport is pleased to announce the addition of the new CorkSport Mazdaspeed 6 Rear Sway Bar to the growing list of product offerings designed to enhance and improve Mazdaspeed 6 performance.
Turning compresses the inside suspension. The CorkSport sway bar attaches both sides of the rear suspension together and resists weight transfer to the opposite side when your Mazdaspeed 6 turns. This anti-sway bar effectively increases the spring rate on the inside suspension and the effective extra spring rate helps to minimize traction robbing body roll.
The CorkSport Rear Sway Bar offers 70% more stiffness than the stock bar and will noticeably improve the cornering and traction of the vehicle without compromising ride quality. The result is an enhanced driving experience with dramatically improved cornering potential.
The CorkSport Mazdaspeed 6 Rear Sway Bar is manufactured from CNC bent 25mm 4130 steel with a black powder coated finish for exceptional strength and longevity. The install kit includes polyurethane mounting bushings to replace the stock rubber bushings and comes with a two year warranty, full color installation instructions and all of the needed installation hardware.
The CorkSport Mazdaspeed 6 Rear Sway Bar is competitively priced at $199 and is available for purchase at www.corksport.com