CorkSport is happy to announce another addition to our Front Mount Intercooler line with the release of the Front Mount Intercooler Kit for Short Ram Intake designed for the 2007-2009 Mazdaspeed 3.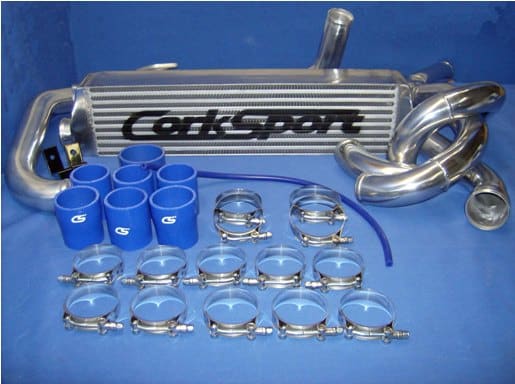 Featuring a 24x6x3.5″ intercooler core, the CorkSport front mounted kit has been developed for optimal placement in the path of the inflow ambient air, allowing for maximized heat dissipation and reduced heat soak, a common problem associated with the stock top mounted intercooler location.
The mandrel bent and TIG welded aluminum intercooler piping keep the kit light and are attached with stainless steel T-bolt clamps to ensure an airtight seal. Custom reinforced silicone connectors made from multi-layer nylon braid provide strength and a smooth internal transition for less turbulent air flow.
Extensive testing on the Front Mount Intercooler saw 1-2 psi increase in boost over the stock intercooler and an average pressure drop of 1.5-2psi across the core resulting in 85% efficiency for greatly reduced core temperatures.
"The CorkSport Front Mount Intercooler with Short Ram Intake is no exception to the quality standards and attention to detail I have come to expect from CorkSport products," said CorkSport customer, Kyle Reid, "The immediate boost in power speaks for itself. The free-flowing intake system increased both torque and horsepower right where I needed it and the intercooler is positioned in the perfect location to allow for greater airflow and cooler boost temps which in turn gives me colder charged air. I could not be happier with the kit."
The kit has been designed to integrate seamlessly with our popular CorkSport Power Series Short Ram Intake and can be purchased as a standalone kit to compliment your current short ram intake or can be purchased with the CorkSport Power Series Short Ram Intake for additional savings and power gains.
For more information or to purchase, https://www.corksport.com/corksport-2007-2009-mazdaspeed-3-fmic-kit-for-short-ram-intake.html