Back in 2009 Mazda decided to get the then new 2010 model year Mazdaspeed 3 involved in road racing in the ST class of SCCA Grand Am racing. This pitted the Mazdaspeed 3 up against VW GTIs, Kia Fortes, BMWs, Honda Civics, Porsche Boxers, and even Mazda MX-5s along with a host of others. The variety of vehicles that can compete in this class makes the field of cars immense at these events. In the recent Grand-Am 200 race, 45 different cars were represented.
The bodies of the cars competing have to remain stock in most aspects. Modifications allowed in the ST class are limited to bolt on performance items along with various suspension parts that will hold up to the rigors of road racing and all cars competing get a boost in safety with roll cages, seats, and fire suppression equipment. The tires are one size only for the Mazdaspeed 3, 225/45/17 Continental Extreme Contact Tire.
This year, there are two teams racing the Mazdaspeed 3 in the ST class, I-Moto Racing and Freedom Autosport.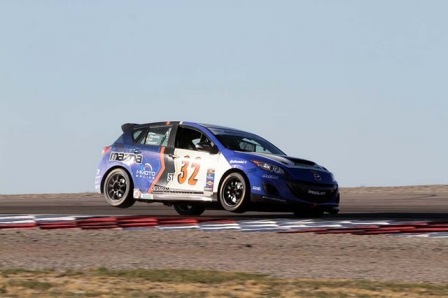 I-Moto Racing has a three car team lead by the team owner Glenn Bochinno and includes past world challenge driver Pierre Kleinubing who used to drive Acuras (welcome to the darkside Pierre). Despite challenges faced due to the Grand Am making a performance adjustment resulting in a boost reduction due to a new "Altitude adjustment", they have seen their share of successes.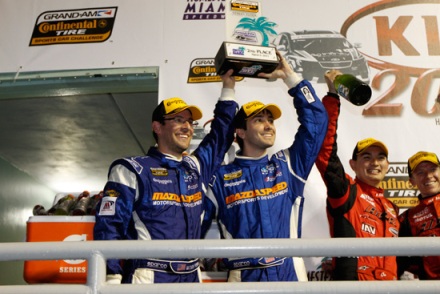 Mark and Matthew Pombo finished 2nd in March at the Mazda Raceway, Laguna Seca and returned to the podium for a 3rd place finish in June after a flawless race at Road America in Elkhart Lake, WI.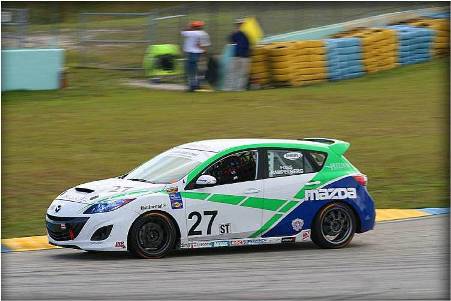 Also featuring the Mazdaspeed3 in their stable is Freedom Autosport. After two full seasons in the Grand-Am Continental Tire Sports Car Challenge campaigning Mazda MX-5's, Freedom Autosport added two Mazdaspeed 3 teams driven by Jason Saini and Nick Igdalsky in one car and Eric Foss and Brad Rampleberg in the other. Brad Rampelberg and Eric Foss gave the team their first podium for the speed3 during the B+ Foundation Heroes 200 at New Jersey Motorsports Park on July 23rd. The third place finish came after the car underwent a complete overhaul in just a week's time by the Freedom Autosports crew
Mazda looks to have the Manufacturers championship wrapped up with one more event left to go at the Emco Gears Classic at mid-ohio on Sept 16th. The race will be televised on Sep 25th at 12:00 pm EST so be sure to check out the race.
Derrick-