After many months of development and testing, CorkSport is pleased to introduce you to the CorkSport Single Exit Exhaust for the 2004-2008 Mazda RX-8!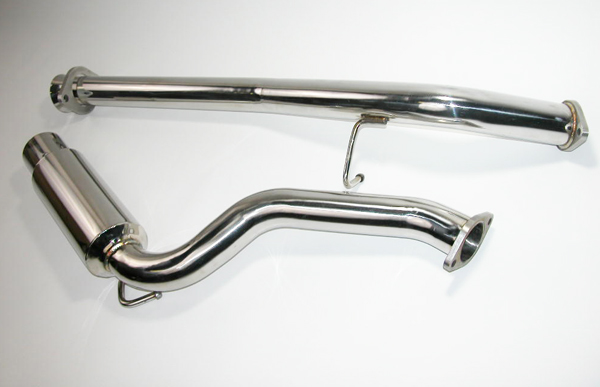 CorkSport's single exit exhaust design includes one 3.4" exhaust tip located on the driver's side of the Rx8. Weighing only 14.2 lbs., a whopping 25.8 lbs. less than the factory exhaust, the CorkSport single exit exhaust design will provide significant weight savings on your RX-8
The CorkSport Mazda RX-8 single exit exhaust provides a deep, bold tone that is aggressive at idle and provides a powerful impression throughout the throttle range.
Our RX-8 exhaust is built using quality material and construction methods. It is constructed using polished 2.4" mandrel bent stainless steel piping to improve exhaust flow and provide more power and finished with TIG welds for a strong connection and good looks.
As with all our CorkSport parts, the Mazda RX8 Single Exit Exhaust comes with a two year limited warranty, superior installation instructions, and reliable technical assistance should you need it during your install.
To find out more today please visit us online at corksport.com or give us a call at 360-260-CORK