CorkSport would like to announce a new addition to the CorkSport Mazda 2 line of suspension products, the Mazda 2 Front Sway Bar, developed to enhance Mazda 2 performance and handling.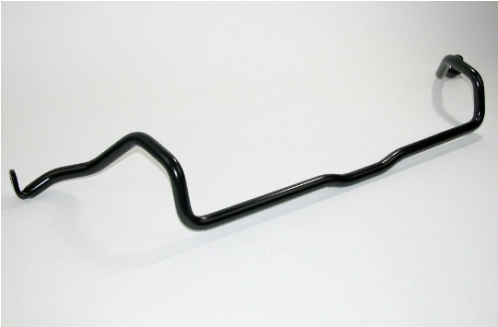 The newly released Mazda 2 Front Sway Bar will reduce body roll during cornering and give the driver a crisper road feel. By strengthening the lower suspension connection across the front of the Mazda 2, the CorkSport Mazda 2 Front Sway Bar is able to reduce oversteer or understeer by complimenting other suspension upgrades and reduces body lean which keeps the outside tire in better contact with the ground in turns.
The Mazda 2 Front Sway Bar is made from CNC machined 7/8" 4130 steel tube and provides 60% more stiffness than stock front sway bar. The powder coated black finish offers long lasting durability and performance. The included polyurethane mounting bushings eliminate the sloppy handling caused by stock rubber bushings and offer long life and resistance to common contaminants that would destroy rubber bushings.
Thoroughly tested by CorkSport during autocross and recently listed in Mazda's booth at SEMA 2011 in the concept Mazda 2 turbo car, the CorkSport Front Mount Sway Bar provides the Mazda 2 with a distinct racing advantage over stock sway bar and has been highlighted in publications such as Car Throttle, Autoweek, and Carbuzz.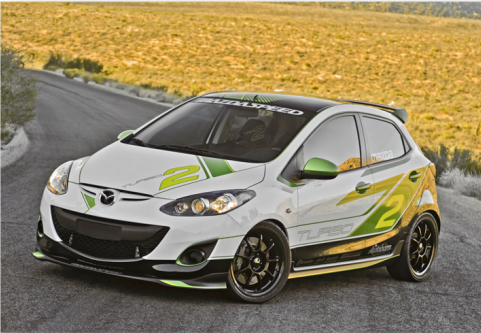 The CorkSport Mazda 2 Front Sway Bar and has been tuned to compliment the CorkSport Mazda 2 Rear Torsion Bar and can be purchased as a kit for the competitive price of $268.20 or as an enhancement for your existing suspension upgrades for $199.00.
For more information about the CorkSport Mazda 2 Front Sway Bar, please visit the product page at https://www.corksport.com/corksport-mazda-2-front-swaybar.html