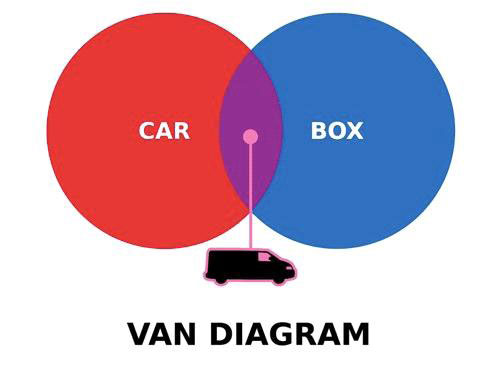 I love having a vehicle that can do everything as my daily driver. Right now, I'm driving a Volkswagen Vanagon Syncro Westfalia Camper w/ Subaru EJ22 engine as my everyday kick around vehicle. It's the penultimate vehicle for doing pretty much anything -offroad adventures, camping, transporting stuff -from groceries to auto parts to shop tools and materials, etc. It's no time attack vehicle, but it keeps me out of trouble on a day to day basis like none of my turbocharged vehicles with aftermarket engine management could ever hope to, and it still turns head like crazy. Here's a picture that is worth a thousand words to convey the insanity that is a Vanagon Syncro Westy: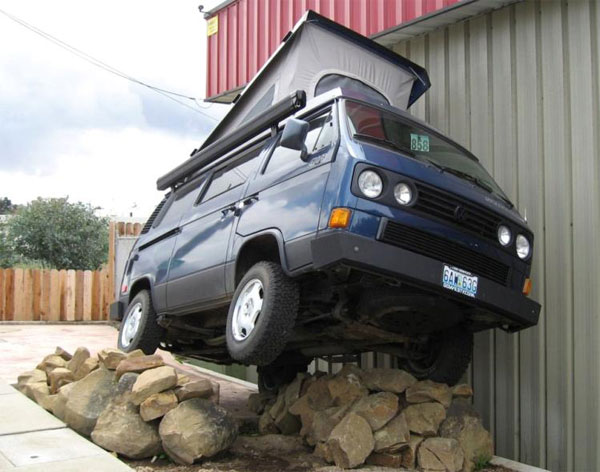 But I really want to add a Mazda to my collection in this role, and after spending much time in our Mazdaspeed3, I am very attracted to that car. Unfortunately, my criteria for a daily driver is -I don't want to mess with it, and I like my license. I have had a number of daily drivers that ranged from healthily fast to stupid fast and I'm better off not becoming used to putting 400+ horsepower to the ground at every on ramp, stop light and S curve in the road. It's like my brain is hardwired to just use the vehicle I have to its extents. Which is why there are a vehicle that looks like a mechanical turtle and a Honda Civic Hybrid in my household -intervention was necessary.
Then while in Tokyo last week, I saw in person a vehicle that I always thought was "french accent" super-cool "french accent": The Mazda Scrum. Also known as the Suzuki Every (because every other one is really a Suzuki perhaps?), Subaru Sambar, Daewoo Damas, Honda Acty, Daihatsu Hijet, Mitsubishi Minicab, Maruti Omni and the dreaded…Bedford Rascal. Perhaps you remember the episode of Fifth Gear where Tom Ford and Johnny Smith duked it out dori dori style in a pair of Bedford's, with Tom's ending up like a British acid trip version of a Bosozoku A-Team van. Anyway, back to the Scrum -our awesome little Mazda microvan/truck.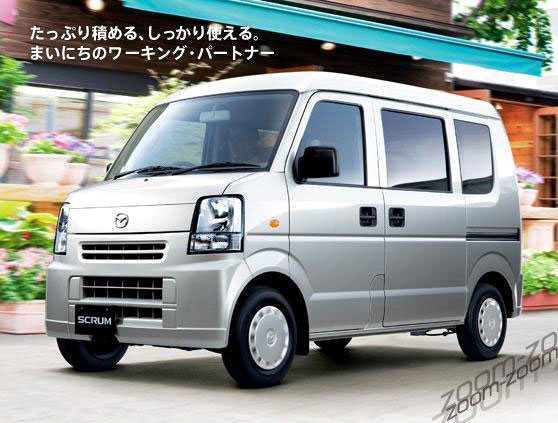 With a twin cam 650cc Turbo 3 cylinder, this little Demio/Mazda2 sized van is freaking awesome. For 2010 it comes in about 10 different trim levels across two lines -the wagon, which is your typical family car and THE VAN, which is your work vehicle, manual transmission, optional all wheel drive….optional TRUCK BED! Ever since I made a trip up to BC a few years back and got an eyeful of the Mitsubishi Delica Spacewagons and other JDM people movers that are around every corner in BC, I have been wanting one of these unique vehicles.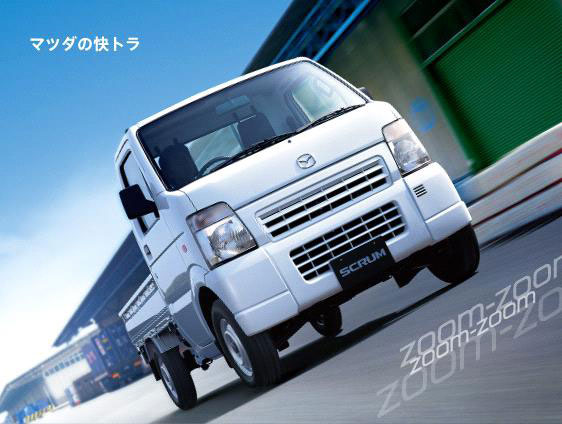 Ya see, here in the US of A, if you work in the trades, you have this compulsory magnetism to purchasing a Ford 3500 with Cummins DuraStroke diesel engine (this is humor, don't post comments about how I don't know Chevy from Ford, I do, and I'm not proud of it). This trend to needing a big truck if you work a trade, albeit ubiquitous in the United States is all but nonexistent in the rest of the world. You go to Australia, South Africa or Europe, you'll see vans (think Sprinter) and the omnipresent Ute (think an El Camino made out of anything from a new GTO to a Nissan Sentra). In Asia, it's a little different with the van simply coming in multiple scales (from semi truck sized all the way down compact and subcompact).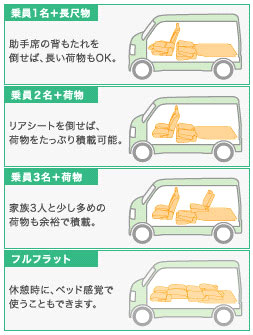 I so want one of these little bastards. They're awesome, can park on a sidewalk (that happens to me often, I wake up in the drivers seat mysteriously parked on a sidewalk :-/), can be used to transport people and easily convert to hold mass quantities of cargo and get amazing mileage. Check out this diagram of the seating configurations.
Unfortunately, here in the states my best option to get one imported and in is probably not to buy a brand new one, so I went looking around. Terra2Imports.com is up in British Columbia and has these available regularly.
In fact, they've got a private seller who's trying to part with a Suzuki Every Turbo with the "Super Multi-Roof" glass topped twin moon-roof option right now that I've been trying to figure out how to smuggle past the authorities and/or Minutemen at the Canadian border.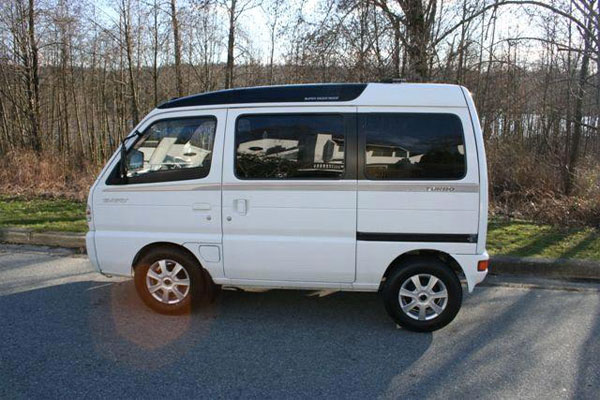 I mean, check this thing out -effectively a full glass top, room to carry the world, a 650cc Turbo engine just begging to be thrown in the garbage in trade for a GSX-R 1300cc Hayabusa engine with miter cut 2′ tall Bosozoku exhaust and mashed to the ground on a set of JIC Magic coilovers and zero offset wheels.
I wouldn't be the first person with a Boso Micro Van…check out this Autozam (Mazda's Kei Car division) Scrum: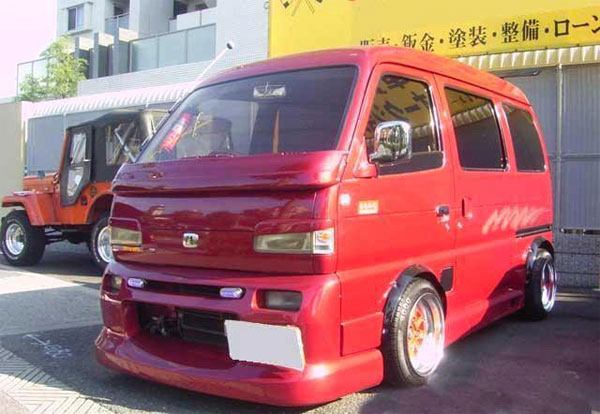 In case you're wondering where the heck Mazda got the name for the Scrum, it's the point in a rugby game when there is a restart after a stop in the game …get it? It's the stop and go vehicle, great for deliveries and going from one place to the next. Ah, chalk it up to lost in translation. They could just call it Car+Box and I'd love it.
– Jason