We have some good things brewing here at CorkSport in the product development arena. We're working on the release of some new products that are currently in our development pipeline. Below are a few products that we'll be releasing soon as well as a snapshot of our current approved projects that are in the works. If you don't have your favorite project listed on here, we may still be working on it, but if there is something you'd like to see, feel free to email us: griffith@corksport.com.
2010 Mazda3 / Mazdaspeed3 License Plate Relocation Bracket
Using the factory tow hook mounting boss and a CNC machined, black anodized billet aluminum backing plate complete with a ghosted CorkSport 'CS' logo, this license plate relocation bracket allows you to avoid being hassled by Johnny Law while not blocking the flow of your radiator or front mount intercooler. Offset to the driver side with a factory fascia contouring angle, these brackets are the nicest on the market with a simple yet effective design that even looks nice if you've got the plate off of the car.
Have comments and questions about this product? Feel free to email me at griffith@corksport.com for further input. One customer we have (who at this time of press hasn't answered my email asking to use his name -which I would love to) had an excellent suggestion to provide a replacement cover for the tow hook access panel, and we're already working with our composites shop to dial something in as an added option to the package.
Look forward to this product coming near the end of the month. Photos below show initial design using 'AXELA' license plate to demonstrate assembly. No more rotation of your plate frame. Integrated threaded bosses in the 1/4″ thick backing plate for an easy two handed installation. Two piece billet design allows potential to swap out for JDM or European backing plates in the future.
Want to throw in your 2 cents toward future upgrades and revisions to the product? Leave us your comments in this quick online product development survey.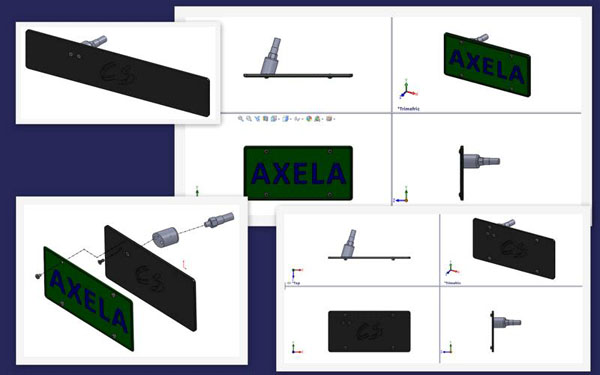 2004-2009 Mazda3 2.3l Power Series Short Ram Intake System
We have had a lot of success lately with our configurable intake systems for the 2010 Mazda3 and 2007-2010 MZR 2.3 DISI powered MS3, MS6 and CX-7 and we have our customers to thank for that. With all of the added buzz around our intakes, a number of 1st Gen MZ3 as well as MZ6 owners have asked about a Power Series Intake for their vehicles. So we prototyped a new silicone coupler design that interfaces well with the MZ3 and MZ6 vehicles, clearing the battery box vent in the MZ3 and providing additional hood clearance in the MZ6.
So far we're on the cusp of being able to release the 1st Gen MZ3 systems -probably around the end of the month. I'll be testing out the system on a 1st Gen MZ6 this week thanks to one of our local friends who has been a customer of ours for years of Mazda ownership.
We are still looking for a 2010 MZ6 in the PDX/Vancouver, WA area as our last contact for a rental car has come up short in the last few weeks and we're really eager to get the development finished on that product and get it to market. So if you've got a 2010 MZ6 and are in the market for a short ram intake, drop me an email at griffith@corksport.com and we'll get it hooked up for you.
2010 Mazdaspeed3 Cat Back Exhaust.
We just finished some revisions to production testing for the CatBack Exhuast on the shop's 2010 Mazdaspeed3 and will have those available in early May. Dual 90mm tailpipes finish off a twin resonated system with full 3″ straight through exhaust for maximum performance and our signature aggressive sound.
2010 Mazdaspeed3 Front Mount Intercooler
We're finishing up the test fit of our 2010 Mazdaspeed3 FMIC this week and then doing some dyno pulls to catalog the results. We are also revising the configurations of our FMIC, offering a bare bones FMIC kit at an aggressive price point, FMIC with Top-Mount Ram Airbox, as well as options for full anodizing of the entire system and optional inclusion of the ATP Boost Cut Killer that was included with all of our previous intercoolers (as anyone with a FMIC and TurboBack Exhaust can tell you, this addition is usually the item that pushes you right up to the point of boost cut, and being able to run that additional couple of PSI adds up to a lot of power, especially when you throw a tune on the vehicle for a good margin of safety.
2010 MS3 Cold Air Box
We've got this charted for June 2010, had to do a few updates to the design in an attempt to clear HKS SSQV BOV's. Just finishing up the redesign and should be able to make a mold shortly thereafter.
FC RX-7 S4 & S5 CorkSport Silicone Radiator Hoses
Multi-layer silicone coolant hoses withstand immense pressures and seal superbly. Add a set of four T-Bolt Band clamps and you're ensured the best performance. With a black outside and a blue flourosilicone liner, these lines won't burst under pressure and they won't burst your bank account either.
There's my update for now. We've got a couple more things coming down the pipe, but these are the furthest along.
I'll keep you all updated!
– Jason