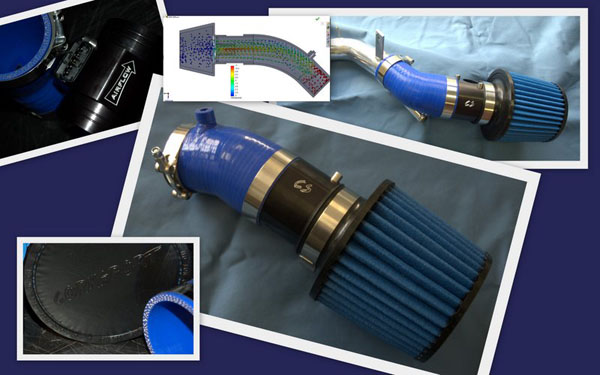 In the last few months we've invested a good amount of time into working on making our intake systems more modular. The benefit to our customers is that we're dialing in the building blocks to roll out a number of new intakes that will backfill our inventory for vehicles that we haven't supported with induction systems. At the same time, having modular systems allow us to get better material pricing, invest less in mill and lathe setup times by using like parts across multiple make and model product lines. We have also sourced custom filters from one of the top domestic performance air filter manufacturers and we're very excited about cultivating that relationship.
As our intake product line becomes more modular, we become more able to tailor our intakes to our customers interests and styles as well. With our new anodized MAF housings and custom CorkSport synthetic media air filters, we have new opportunities for configuring color options. No matter how much of a function over form kind of person you are, a product that looks cool while it does a top notch job is always better than one that looks like it was made out of scraps from the appliance aisle at Home Depot. We know you want your car to not only look good, but to make your car your own, and utilizing like parts and manufacturing techniques across multiple model product lines will allow us to give you higher levels of customization. Bottom line – tell us what you want your parts to look like. Have an idea for how to make something more customized or unique to the person who is buying the parts? Use our
product submission form
and let us know what you want.
Cutting Edge R&D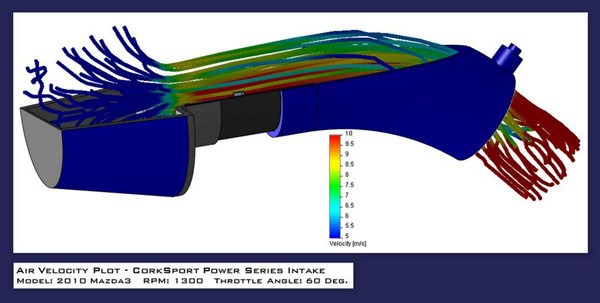 On the R&D front, we're utilizing some cutting edge techniques in computational flow dynamics and test equipment so that we can gather data from our existing intake systems and build complex computer models that will allow us to rapidly prototype and develop new intake systems as well as other induction systems to improve the performance of your Mazda. As we move into mastering some of these techniques we'll become more and more able to intuit ways to improve the flow of gasses through your engines. In this respect, intakes are unbelievably simple, but a number of factors can cause pressure drops across the length of the intake and effectively act as the same thing as a restriction in the system. We'll talk more about that in the next few installations of my intake system related blog posts.
The most important goal for us at CorkSport is to meet your needs for quality performance parts that match the style and aesthetic appeal you're seeking when you modify your cars. While I aspire to have a decent capability to design trick parts, my input alone on what our systems should look like most certainly isn't enough – we need your
input
. Just have a small comment about a color or variation you'd like to see?
Email me
.
Also, if you've got a 1999 or later Mazda in need of an intake and live in the Portland, Oregon area, let us know – we're always looking for cars to use during our prototype and development process. We're specifically looking for Mazda 6's, 1st Gen & 2nd Gen in 4 and 6 cylinder versions. I'm also looking for a 2.0 liter 2004-2009 Mazda3 and a 1999-2000 1.6 liter Mazda Protégé.
On and off in the next few months I'll be discussing more about intake design: Differences between long tube cold air intakes and short ram intakes, filter selection and misconceptions, factory warranty concerns, effects of water in the combustion process, our testing and validation process and the tools we use to get the job done right. Hell, I might even go into some details of some of the modular intake manifold designs and concepts I've been toying around with for my own cars that might show up in our product line come next summer.
–
Jason