Our first day at the SEMA show went really well – the show hasn't officially opened yet, but there was a full day of seminars covering a bevy of product development related topics. Most of the show cars are all in place and we ran across a few Mazdas in the bunch, and had some time to chat with their owners.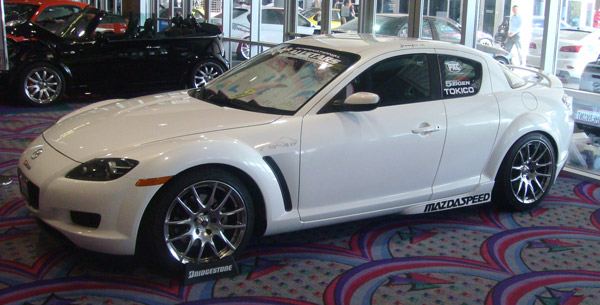 Most of the seminars were related to marketing and other customer facing activities and we took a lot away from these. We also had some time to chat with the SEMA Tech Transfer team that provides a variety of Computer Aided Design (CAD) data connections between OEM manufacturers and automotive aftermarket specialists. With connections of programs like this and other efforts, we could cut our time to market substantially and also prototype a lot of new systems without a major up front fabrication investment. Modifications that rely on surface data (dashboard, fender and headlight geometry) can be designed entirely in the computer and rapid prototyped for short run evaluation and product qualification without investing in any hard tooling.
One of the Mazdas we saw today stood out among the others- a 1st Gen Mazda3 Sedan owned by Jeremiah of International All Stars featured a two tone finished Cosworth Focus Short Ram Intake Manifold and an F2 Turbo Kit. As with a lot of cars that show up to SEMA, adding finishing touches at the last minute is almost expected – and when we left tonight, Jeremiah was modifying the front grille to show off the front mount intercooler and was working with the guys at Cosworth to get some further visibility of their product on his car. We'll try to put a video up of Jeremiah's car tomorrow – gotta find our USBa to USBmini cable.
Beyond that we're certainly having a good amount of fun here in Vegas. Chris Tran, has come out of his retirement as our former shipping guy and narrowly avoided getting beat up by a group of high school girls last night.
We'll keep you updated!
– Jason