As we usher in the dawn of a new year, CorkSport looks forward to what's to come in 2012 and covers some highlights Mazda enthusiasts and CorkSport customers can expect to see in the coming months!
A New Website for CorkSport.com

In the relentless quest to provide our customers with the best online shopping experience possible, CorkSport will be launching a brand new website. Our newly designed website, scheduled to launch late this month, will feature improved navigation making it easier for our customers to find the parts they are looking for, a mobile optimized shopping experience for Android and iPhone users, easier to access content, photos and video clips along with a fresh new look. So be ready CorkSport fans because your shopping experience is about to get even better!
Suspension Packages
CorkSport is gearing up to offer a new line of staged suspension packages that will simplify handling upgrades for many of our customers. Our staged suspension packages will accomodate many levels of suspension upgrade needs starting from street performance through racing. We will be rolling out the the new suspension packages beginning with the Mazda 3 and Mazdaspeed 3 with our top package including a new coilover kit for Mazdaspeed 3 with amazing features for the price
SkyActiv Technology

We have blogged about this several times throughout the last year and now we are happy to say that Mazda has officially started rolling out its new line of SkyActiv technology for the Mazda 3 and will continue this trend into 2012 with the launch of the new CX5 platform to combine their legendary drivability with fuel efficiency.
B-Spec Race Series
For 2012 a number of sanctioning bodies have created a new segment of race cars called B-Spec that target the sub-compact market. The aim of this series is to provide more access to racing with the intention of the sanctioning bodies to maintain a single "spec" for the cars. Mazdaspeed Motorsports will be using the Mazda2 as their respective platform for this growing segment of the automotive industry.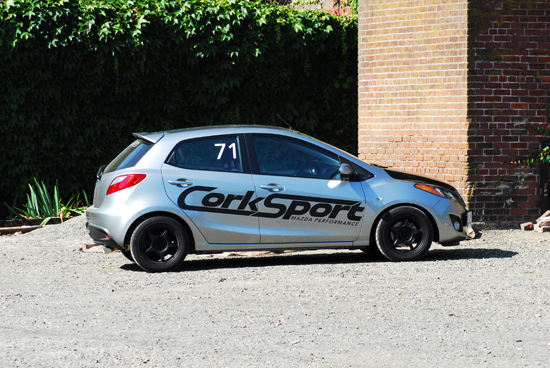 CorkSport will also be continuing to compete in the SCCA ST-F class and we will be providing regular updates on our successes as the season evolves.
This represents just a small segment of what is in store for CorkSport and Mazda this year. We will continue to grow our product line and continue our unparalleled support for the Mazda community.
We are looking forward to a successful and exciting 2012!
Gwynne-