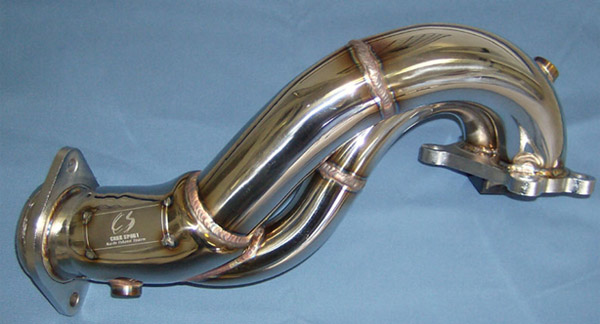 It's released! The downpipe for the 2010 Mazdaspeed 3 is on our shelves and ready to ship out. First off lets cover the obvious questions, why install a downpipe? When installing an aftermarket down pipe several things happen. First the turbo charger requires less effort to quickly spin up due to the removal of the catalyst, so boost will happen at a lower RPM. Secondly, with less restriction and back pressure the turbo will be able to quickly expel more exhaust gases, thus raising the boost and increasing power across the vehicles entire power band.
Check out our technical write up about performance exhaust downpipes here.
The CorkSport Mazdaspeed 3 Power Series Downpipe gives you faster turbo spool up which results in a larger power band. Gains in power have been up to 21 wheel horse power when installed on an otherwise stock Mazdaspeed 3.
The downpipes on the 1st Gen MS3 have historically been a bit of a puzzle to work around however our designs are able to avoid throwing a check engine light on first generation DISI equipped vehicles. Other manufacturers of downpipes are hit and miss depending on the manufacturer, with some throwing the occasional random CEL for slow response time and others being more pervasive.
The 2010 models are a bit more elusive and harder to pinpoint the ideal sweet spot for the secondary oxygen sensor that will not throw a check engine light. We are however actively working on resolving the CEL and if successful we hope to offer a retro fit kit for previously purchased downpipes.
If you have any questions about the 2010 MS3 downpipe feel free to shoot us an email or give us a call. We've got several more things coming down the pipe so stay tuned.
– Troy