Our first CorkSport featured car of the month selected by our Facebook fans and blog readers, for our Facebook fans and blog readers, Derek aka "Katsu" submitted his 2004 Mazda 6 Five Door Sport. It was a tight race between his 6 and the Sam's sleeper Mazdaspeed 3, but he won out in a last minute landslide.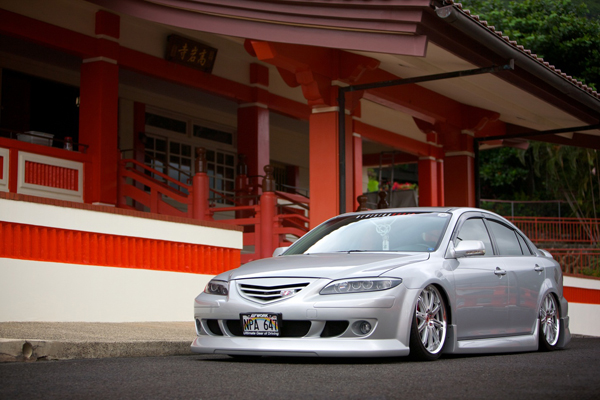 From Honolulu Hawaii, Derek spent several years in California where he was exposed to what was known back then as "West Coast JDM Style" " which wasn't really an authentic JDM look and is what evolved into what's called "rice" now days, but it sparked an interest in authentic JDM styling that translated into a passion for modifying his car into a full JDM look.
With the help of CorkSport, Derek was able to achieve this, including the aero body kit from Kenstyle of Tokyo and all the parts needed to convert the front and rear of the USDM Mazda 6 to accept the JDM body kit.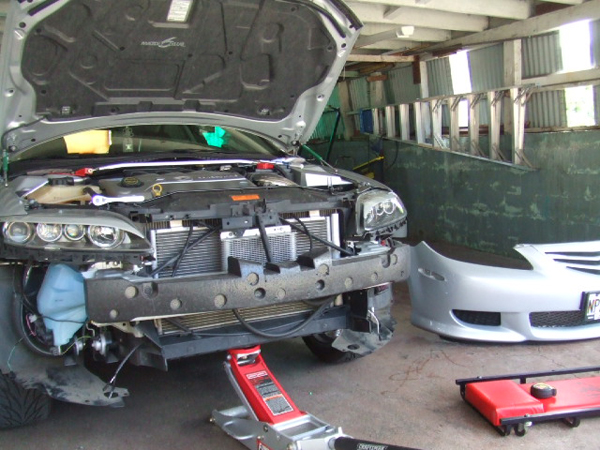 In addition to the body kit, Derek bought several authentic accessory parts to further dress up his ride including Custom Two –Tone Leather Seats, JDM OEM Two-Tone Steering Wheel, JDM OEM Two-Tone Gear Selector, OEM MT. Leather Shift Boot, CCFL Footwell Lighting, JDM Aluminum Non Slip Pedals, LED Lighting Throughout Interior, JDM OEM Aux Fog Light Switch19" x 8.5" JDM WORK Super Wheels "Schwert" SC1's w/ Optional Red Center Caps and Falken Tires (made in Japan).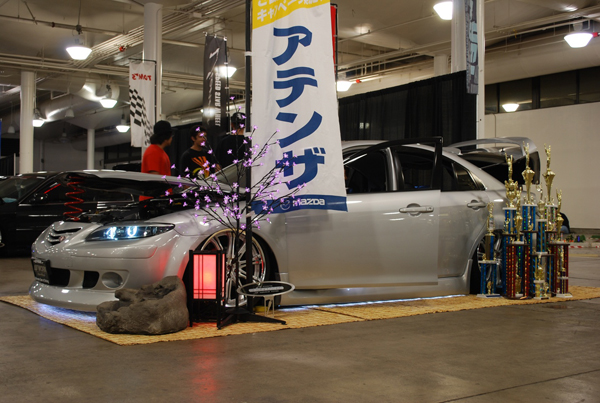 Derek's passion for working on and building show cars has won him two best in shows, five 1st places in Mazda category, 1st places in best vehicle category and two 3rd place showings in the VIP category in events such as Spocom, HIN, Remix, WEKFEST, MazdaFest and Streetcar Supreme.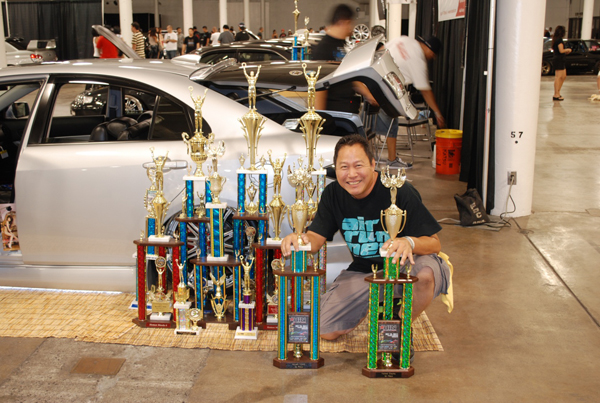 "It is an honor that both Mazda Corp. USA, and Mazda Corp. Japan have given my car such high praises, calling her the most beautiful Mazda" said Derek, "And the funny thing is, all I wanted to do was build something different."
What's next for this steelworker and best in show winner? Maybe a SkyActiv 6 if they come out with one. I look forward to seeing what he will do with his next Mazda, so let's hope they release one soon!
Gwynne-
"Thanks to Samson Mak from Revision Audio, Shin Okamoto from ACC AirRunner Systems of Japan, Scott Miyata of Cutter Mazda Waipahu, TeamRevision, PIMPLUX, and last but certainly not least, Derrick Ambros and everyone else at CorkSport who helped make my JDM dreams come to life!" – Derek
Full List of Mods:
Authentic JDM Kenstyle Aero Kit w/ Foglights
JDM/OEM Bumper Crash Bars
JDM ABS Eyelids Mounted Inside Headlight Housing
JDM OEM Hyperblack Headlight Housing
JDM Power Folding Mirrors w/ J.P. Warning Decals
JDM OEM front License Plate Mount
JDM OEM Rain Guards
JDM Garage Vary Roof Spoiler
JDM OEM Atenza Badge
USDM Mazdaspeed Badge
Clarion ProAudio Multimedia H.U.
PAC Steering Wheel Audio Interphase
Image Dynamics Separates Front/Rear
Viper 2-way Security w/ Remote Start
JDM Voice Module
Custom Two –Tone Leather Seats
JDM OEM Two-Tone Steering Wheel
JDM OEM Two-Tone Gear Selector
OEM MT. Leather Shift Boot
CCFL Footwell Lighting
JDM Aluminum Non Slip Pedals
LED Lighting Throughout Interior
JDM OEM Aux Fog Light Switch
19" x 8.5" JDM WORK Super Wheels "Schwert" SC1's w/ Optional Red Center Caps
Matching Red Spline Drive Lug Nuts
Falken Tires (Made in Japan)
ACC Digital Air Suspension Pressure Gauge
AutoMeter Liquid Filled Mechanical Pressure Gauge
AccuAir e-LEVEL Control Pad
AccuAir e-LEVEL Air Suspension Management System
JDM ACC AirRunner Mazda 6 Prototype Air Suspension System (application not listed on their catalog yet)
FDesign Strut Tower Brace
R1 Concepts Dimpled & Slotted Rotors
JDM Endless Brake Pads
Coated & Badged Calipers
Modified JDM OEM Lighting Harness & Relays
PIAA Crystal Ion Bulbs in Upper Fog Lights
PIAA Hyper-White Bulbs in High Beams
6000K Digital HID in Low Beams
3000K Digital HID in Kenstyle Fog Lights
"Chrome" Amber bulbs
Umnitza "Daylight Demon Eyes"
Full LED Board Modification to JDM OEM Taillight Housing
LED Modification to Third Brake Light
Smoked Lower Reflectors w/ LED's
Under Car LED Lighting
CAI
Chromed Intake Pipe
ECU Modifier, Tunable "On The Fly"
"Dog Bone Motor Mount"
B&M Transmission Cooler
JDM APEXi World Sport 2 Exhaust System
Kartboy Urethane Hangers