There have been lots of pictures and postings on the internet about the new Mazdaspeed 3, Mazdaspeed Axela, or MPS3 (depending on your location on the planet).
After the first few looks at the car I thought that the front end looked a little off with the 'happy face' Mazda came up with.  However, after looking at the car overall, the style and design has grown on me.  With the new body styling, wheels, and stance I think I like the upcoming car more than the older Mazdaspeed 3.
Several things which really stand out to me in the new car are the lower body line which comes up and over the rear wheel well.  From a front view this integrates really well with the styling of the car.  I am really digging the new headlights and taillights as well.  The evolution of the car was a good one.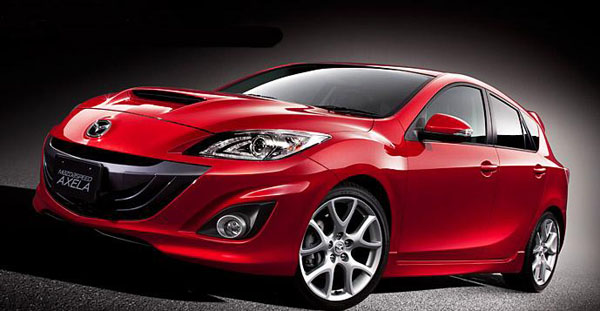 I really want to get a good look under the hood to see the changes to the intercooler and intake system.  So far I have not found any good pictures of the engine bay.  I will probably have to wait a few more months or until we receive our special-ordered MazdaSpeed 3.  With the hood scoop in the new location the CorkSport Ram Air FMIC kit we sell should really make some impressive power gains at speed.