We here at CorkSport have been busy working on some new parts for Mazda owners and I'm excited to be able to share some of the features and benefits that you can expect from some of the newest additions to our catalog that we have been busy developing for our customers.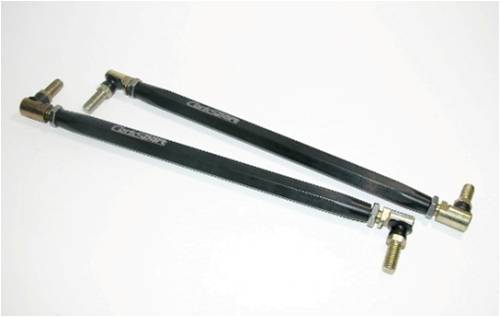 First up we have the CorkSport Mazda 3 and Mazdaspeed 3 Adjustable End Links. These end links are made from 5/8″ hex stock 2011 Aluminum which is stronger than regular 6061. The ultimate tensile strength is actually 10,000 PSI stronger. Compared to the stock end links the CorkSport Mazda Adjustable End Links are much bulkier and stronger, which keeps the link from deforming when subjected to extreme loads. The ball joints used are also more durable than the rod ends normally used in adjustable end links and come with a shield to help keep out the road debris and grit than can increase the wear and tear on the links.
Using adjustable end links will provide increased strength which is important when running a stiffer front sway bar. To those who are worried about corner weighting, adjustable end links allow you to remove any preload from your front sway bar after adjusting each corner's ride height. Not to mention they also look great!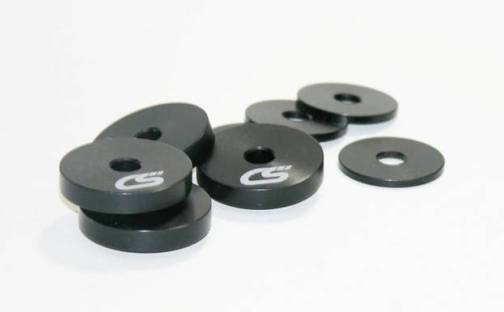 Also just released are the CorkSport Mazdaspeed Shifter Base Bushings. The aluminum bushings replace the factory rubber bushings. These bushings give your shifter a more solid and crisp feel by taking out any slop from the stock rubber base bushings.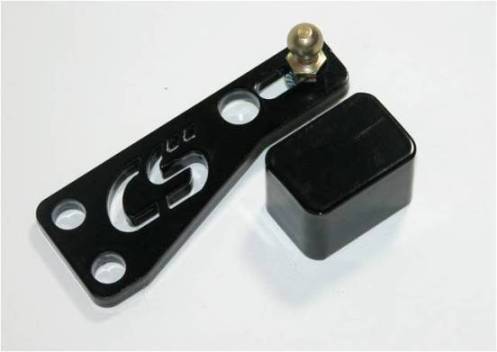 Along with our Shifter Base Bushings, we have also just released a Mazdaspeed Adjustable Short Shift Plate which reduces the throw of your shifter by 20-40%.
The shift plate works by reducing the distance between where the shifter cable mounts on the shift arm to the pivot point. By reducing this distance, the shifter cable doesn't have to move as far to produce the same movement at the transmission. In the car this produces a much shorter throw, which will reduce your shift times, and in turn will help you reduce your quarter mile times.
The short shift plate also includes a smaller shift weight to replace the stock weight. The stock weight weighs about 14oz and the CorkSport weight weighs about 5.7oz. The lighter weight will reduce the fort required when shifting, which again can decrease your shift times. If you still want to keep your stock weight, good news, the CorkSport shift plate will be compatible with the stock shifter weight as well.
Now some of you may be wondering about the other new parts we have in development, and while I can't release any details yet on most of them, I can say we have some very exciting new parts coming down the line. Be expecting to hear more about our Catted Downpipe for the Mazdaspeed 3 and our Underhood Lighting, which should be out in a matter of weeks!
I also want to point out the importance of the product submissions we receive from customers. Development of the short shift plate was actually started from a submission we received from customer, Cale DeLeers. We approved this submission in August of this year and were able to get started on it pretty quickly. We would like to thank Cale for his product submission and note that it is because of his product submission that we were able to develop the product to meet the needs of our customers that were not being met by other similar products on the market.
To those of you out there with ideas for your Mazda, don't be shy. Let us know what you want and we will definitely look into it.
Andrew-