It has finally arrived! The CorkSport 2012 calendar just came off the press. Now you have even more to be thankful for this holiday season!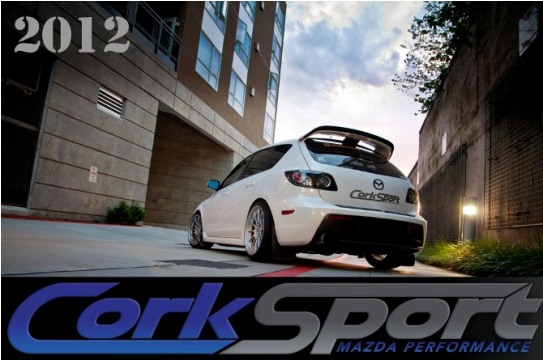 The 2012 calendar is stock full of deals that include discounts, free stuff, extra rewards points, and more for hundreds of dollars in savings on CorkSport products!
We printed a limited supply of these calendars and the discounts will only be available to people that have purchased them so get the best prices on CorkSport product in 2012 by getting your copy today!
All proceeds from the sale of this calendar will be going to Hope for the Warriors, a national, nonprofit organization that supports wounded U.S. service members, their families, and families of the fallen.
We would like to congratulate the following customers who were selected to have their cars featured in the 2012 edition:
CJ Ramos 2010 Mazdaspeed 3
Clement Chang 2004 Mazda 3
Branden Edwards 2004 Mazda RX8
Robbie Stiff 2010 Mazdaspeed 3
Matti Kemppainen2006 Mazda 6 MPS
Domenique Impemba 2011 Mazda 2 Sport
Jean-Pierre Girardin 1986 Mazda 323 BFMR
Matthew Kellogg 2010 Mazdaspeed 3
Marco Stanic 2003 Mazdaspeed Protege
Martin Chen 2008 Mazdaspeed 3
Gwynne-