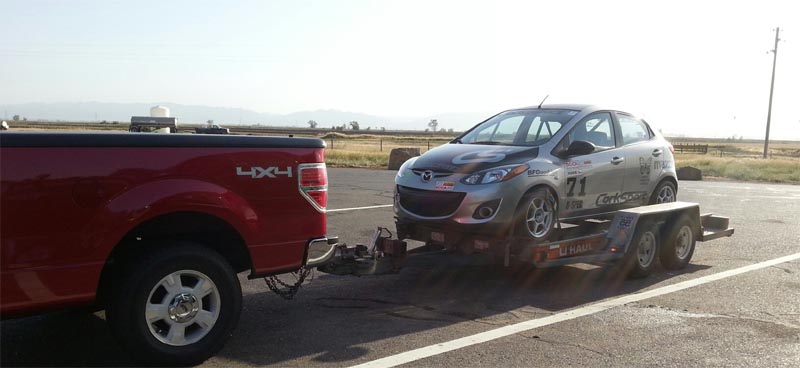 Last weekend CorkSport headed to the second SCCA majors event of the season held at Buttonwillow Raceway Park in California. A "short" 15 hour drive and we arrived in sunny California with a full crew and a driver hopped up on Red Bull ready to go.
The competition for the weekend was stiff as Honda brought out a few factory backed B-Spec Fits to be driven by workers in the racing program, along with some T4 Civics to see how well they would do in the heat of battle. Our driver and fearless race leader Derrick had never driven at Buttonwillow and the track configuration did not favor the Mazda 2 which is down almost 15hp to the Fit's; with that in mind, practice was of the utmost importance.
As you can see from the map, there are a few long straights that are an advantage for the Fit's and the fastest portion of the track is Riverside which is taken flat out (if you have the guts).
On Saturday there was a practice session which Derrick took advantage of to learn the track and prepare for qualifying just a few short hours later. Right off the bat Derrick was laughing like a madman through the radio after spinning the car coming over Phil hill, which he seemed to think was hilarious. I suppose the thought of being able to actually spin a 100hp car on racing slicks is pretty impressive. After settling down he managed to set one of the fastest practice laps of the day.
After a quick inspection of the car we were back out on the track for qualifying. B-Spec cars are usually the slowest group of cars on the track and Derrick usually stays towards the back of the pack in qualifying so he can get a clean lap without traffic. Derrick used this approach to get a decent lap and was able to qualify in 2nd between two Fit's.
After the green flag waved, Derrick was able to hold his position despite the power of the Fit behind him and challenged the faster Fit for the lead. With just one lap to go the CorkSport Mazda 2 B-spec car was reeling in the more powerful Fit and got within 3-4 car lengths before traffic got in the way. In the end, Derrick had to settle for 2nd place but learned Buttonwillow and a little bit more about the CorkSport Mazda 2 B-Spec car. Derrick is currently 4th in the standings for the entire west coast and we look forward to more quality finishes and more trophies in his office for us to shoot spitballs at.