With all the talk of the new Mazda 6 Sky-D being released here in the US and the released Cx5 Sky-D in other markets around the world, I got to thinking about all of the fun modifications you could make to the 2.2 dual turbocharged Sky-D Engine.
If you look at the arrangement of the turbo setup on the Sky-D engine, you can see the whole setup is pretty convoluted to 1) keep costs down and 2) package everything in a tight space so you do not burn the insulation and paint off the firewall.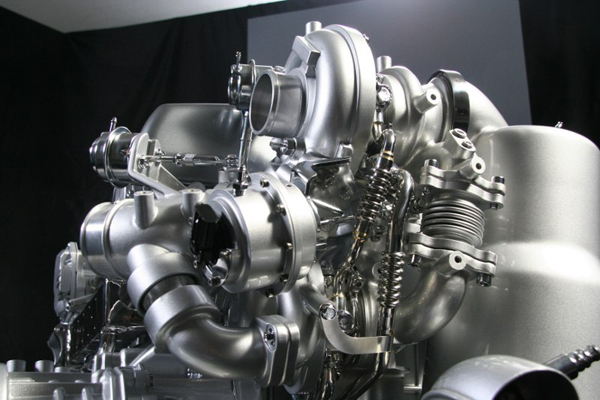 A more comprehensive view of the set-up shows how large the catalyst is that Mazda used in order to meet the strict emissions for diesels in the European market.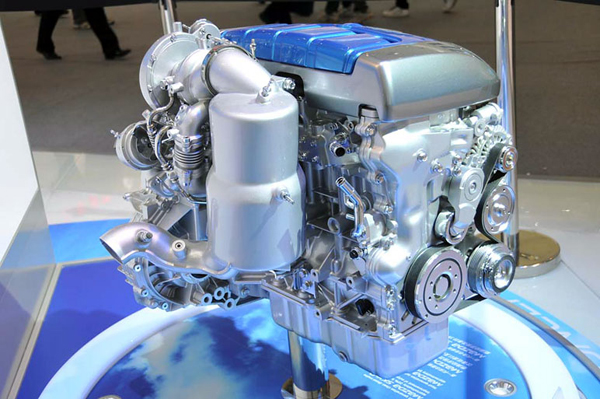 Looking over the setup I can see several improvements which could be made to increase the power output of the engine through work on the exhaust side. If you take a look at the engine Mazda announced with the press release about running in the Grand-am GX class with the Sky-D engine, they simplified the twin turbo setup on the engine by setting the turbo arrangement in a more traditional configuration using one turbo to feed the other unlike the stock setup where both turbos feed a common plenum.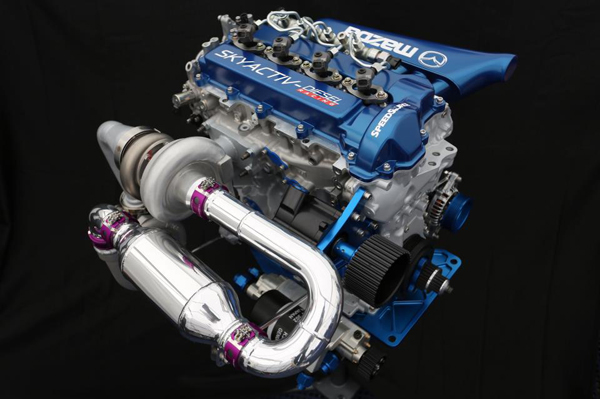 The advantage of the race engine is that you are running an intercooler before the second turbo to make the most of the cooling and then you can run the charge from the second turbo into an additional intercooler from there. While the race setup is nice, it isn't practical for most people on street driven vehicles. I would look at changing the turbo outlet package with a better and smoother flowing downpipe and integrate the catalyst at an angle which is not 90 degrees to the exhaust entry and exit.
Looking at the production turbo setup that Mazda is showing with the new Mazda 6, there are differences in the packaging of the turbos. You can see that Mazda changed the actuators to be more compact against the back of the engine.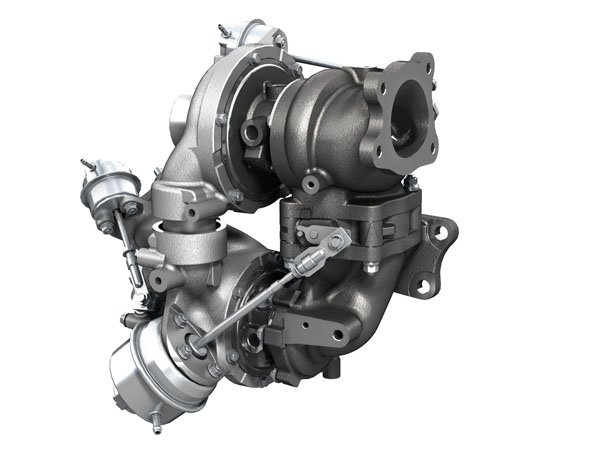 Based on the size of the parts, I bet you can squeeze a Garrett GTX35 on the back of the engine and hit a solid 400 hp and 600 wheel torque with some upgraded injectors and pump. When I get one I will have to try it out and report back on how it goes. Incidentally here is a picture of the production Mazda 6 Skyactiv-D engine I wanted to share.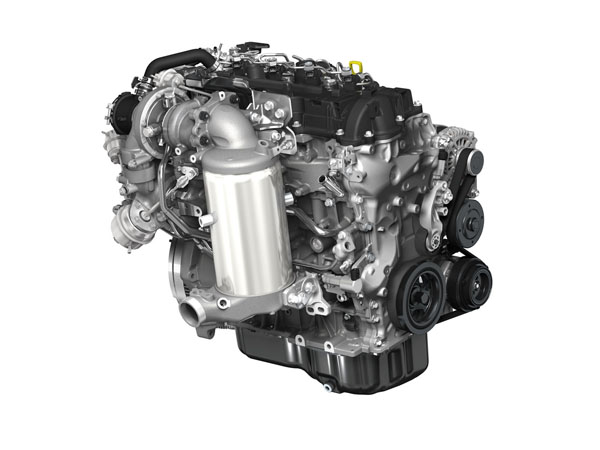 With that monster catalyst relocated, you get a large empty space on the back of the engine which would be perfect for a large waste gate and all of the needed piping to hit that 400hp number. You can imagine the surprise on someone's face watching a Cx5 walk all over them on the street or the freeway.