The First and Only Performance Mazdaspeed Throttle Body with NO Sacrifices
Many have tried, but few have succeeded to retrofit or modify an existing throttle body to work with the Mazdaspeed DISI MZR platform.
As you know, CorkSport does things a little differently, and as a result, we started from the ground up to create the best performance throttle body possible with no sacrifices to drivability or reliability. Introducing the CorkSport 72mm Throttle Body for 2007-2013 Mazdaspeed 3, 2006-2007 Mazdaspeed 6, and 2007-2012 Mazda CX-7.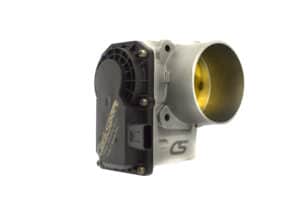 Starting from the ground up means 100% brand new parts, no reworked or refurbished components anywhere.  
We start with an aluminum investment cast body that is made to our specific design specifications.
A flat faced throttle plate is added to gain a little bit of extra flow by avoiding the bump of a traditional round pivot shaft.
Finally, new electronics are added that are based upon OE logic to avoid any tuning and calibration issues.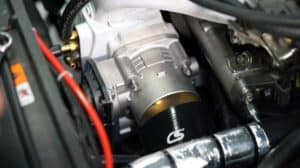 To retain easy installation, we knew we had to keep the OE bolt pattern. With this, we wanted to maximize the throttle plate diameter for maximum flow. We ended up increasing from 60mm to 72mm. This may not sound like a huge increase, but the OE Throttle Body fits inside the CorkSport Throttle Body with plenty of room! The 72mm size also fits well with both 3" and 2.5" intercooler piping to fit almost any TMIC or FMIC setup. Finally, we did away with the OE gasket (which is too small anyway) and replaced it with a durable O-ring that will hold up to oil, gasoline, methanol, and other fueling options that it may come in contact with.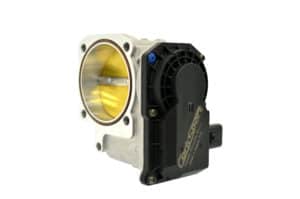 The CorkSport Throttle Body underwent extensive testing to ensure that it will not fail during daily use and to ensure it performs as well as we expect. The throttle plate underwent endurance testing to validate the D-shaped pivot can stand the test of time. During flow bench testing, we found that the CS TB flows about 150CFM (~33%) better than the OE throttle body when 75% open (accelerator pedal fully depressed).
Check out the graph below for the full data.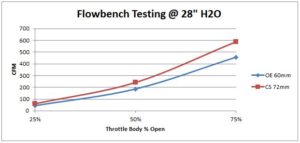 In daily driving testing, we noticed better throttle response with no CEL or choppiness. In power testing with a midsized turbo (~GT30 size) we found the throttle body caused faster spool, but when we moved to a big turbo, things got interesting. With a GT35R, the CorkSport Throttle Body caused 100-200RPM faster spooling and an increase in power. Check out the dyno graph down below to see the difference between the CS Throttle body (blue) and the OE throttle body (green).
Each throttle body ships with fresh stainless steel mounting hardware, a 3" stainless t-bolt clamp, and your choice of silicone. We have options for FMIC, MS3 TMIC (which also works for you CX-7 guys), and MS6 TMIC.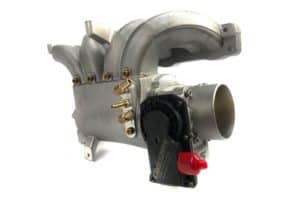 If you're looking to take your Mazdaspeed3, Mazdaspeed6, or CX-7 to the next level, or squeeze that last bit of power out of your big turbo build, the CorkSport Throttle Body can help you meet your goals.