Looking to add some Extra Excitement to your Mazdaspeed?
What if we told you could add extra engine protection at the same time? Introducing the new CorkSport Balance Shaft Delete Kit for 2007-2013 Mazdaspeed 3, 2006-2007 Mazdaspeed 6, and 2007-2012 Mazda CX-7. It contains all the parts you need to safely remove the OE balance shaft from your MZR DISI engine and give it the extra rev-happiness that it needs.
The OE balance shaft is an 18-pound lump that lives in your oil pan to help balance out the natural vibration and harshness that are inherently present with an inline four-cylinder engine. It does this by connecting to a large gear on your crankshaft and using rotating mass to help cancel out the vibrations from the engine. By removing the balance shaft, your engine has less weight to turn and thus, can change RPM more rapidly. If this sounds familiar, it's because lightweight flywheels do the same thing; remove some of the rotating mass of the engine to gain a faster revving engine and even a few bonus horsepower.
The OE balance shaft needs an oil supply to ensure that it stays well lubricated and does not lock up. The CorkSport BSD Kit uses a stainless steel plug and O-ring to seal this oil passage. The O-ring is not enough to seal and keep the plug in place, however, it is locked down by a securing plate which gets attached using one of the OE balance shaft mounting holes. We chose stainless for its strength over aluminum. By doing so allowed us to create a lower profile plug with a thicker O-ring for better sealing. We were also very careful to choose an O-ring that is safe for all types of oil and safe up to 400°F.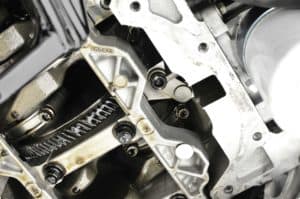 But you may be asking where does the engine protection come from?
Since the OE balance shaft lives in the oil pan, it takes up some volume that could otherwise be used for oil capacity. This means roughly a quart of extra oil can be used once the BSD kit is installed. Also, the CorkSport Balance Shaft Delete Kit comes with an oil pan baffle to help control your oil's movement during aggressive driving.
While rapidly changing direction or during a long sweeper at high speed, the oil in your oil pan can move around a surprising amount. If the wrong set of circumstances happen, your engine can be starved of oil, which can easily damage vital engine components. The CorkSport Oil Baffle controls your oil's movement, ensuring that your engine will have a good supply of oil no matter the driving situation.
We again choose stainless over aluminum for the oil baffle, so that it is rigid enough to control your oil and prevent any vibrations or rattles while your engine is running. The oil baffle is made from two laser cut pieces that are then attached using stainless steel rivets to eliminate any risk of corrosion or improper hole alignment.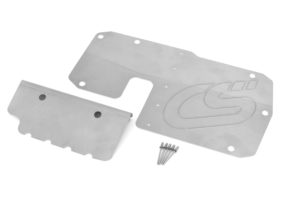 Note: the CS BSD Kit comes fully assembled and ready for installation.
Since the CorkSport BSD Kit removes a stock component designed to make the car more comfortable, it will naturally have an increase in noise and vibration coming from the engine compartment. As such, we cannot in good conscience recommend this mod to everyone. That does not mean it is unbearable though, Barett at CorkSport still daily drives his fully mounted Mazdaspeed3 with a CS BSD Kit installed.
If you are looking for the next mod to get some more excitement from your Mazdaspeed, look no further than the CorkSport Balance Shaft Delete Kit. After all, how many mods come with some extra engine health as well?