If you are on the forums or Facebook groups, you have probably seen the "I smell gas under the hood of my speed" post by that person trying to troubleshoot their car. Then, 10 minutes later, they post again announcing the stock hardline from the pump to the rail has cracked on their speed. And now they have to visit the dealer to get a new one, which will likely fail in the same manner.
We grew tired of seeing the same thing come up, so we are happy to announce a solution the CorkSport Braided High Pressure Fuel Line.  The line provides a durable and reliable solution to the crack-prone OEM hard line that loves to leave you stranded.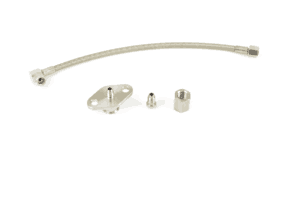 We made our line out of 314L stainless steel fittings with a SAE100R14 Stainless Steel Braided PTFE for excellent pressure, corrosion, and temperature limits. The Polytetrafluorethylene (PTFE) and Stainless Steel have excellent properties that make our line compatible with gasoline (petrol to our UK friends), ethanol (for all you E85 junkies), methanol, and beer (we do not recommend running your car on beer, but if you need a straw in a pinch…).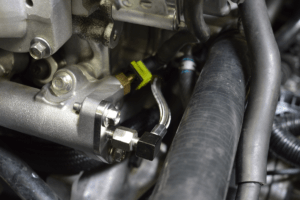 Our lines were yield tested to 7100psi before a failure occurred in the form of a small leak, which is a safety factor of 3.2 for an OEM fuel system at its limits.
This is one of those parts that is a must buy, not just a nice-to-have. Fuel fires are nothing to mess with.