When Steve first approached me about being sponsored by CorkSport, he smartly sent along some swag from a recent surf competition near his home on the south shore of Long Island NY. Being an ex-surfer myself, it certainly didn't hurt his chances, but buttering me up with free stuff wasn't what convinced me that Steve would be excellent at representing CorkSport in the community. It was his passion for Mazda performance and for CorkSport, his unrelenting positive attitude, and his enthusiasm for being a part of the Mazda community that made him an ideal candidate to wear the CorkSport badge.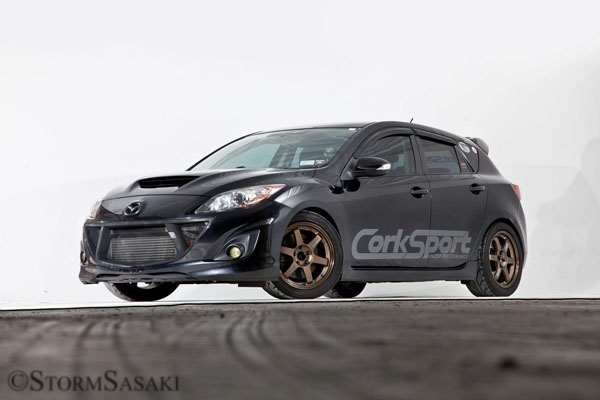 Steve Kritzberg (Kritz on the forums) is a true Mazda enthusiast if you've ever met one. This may be a more recent obsession for him, but he has immersed himself in the forums and become an active member in his local Nator New York group and the surrounding chapters in NJ and PA, hosting install days, BBQ's, and helping to plan events for the local chapter.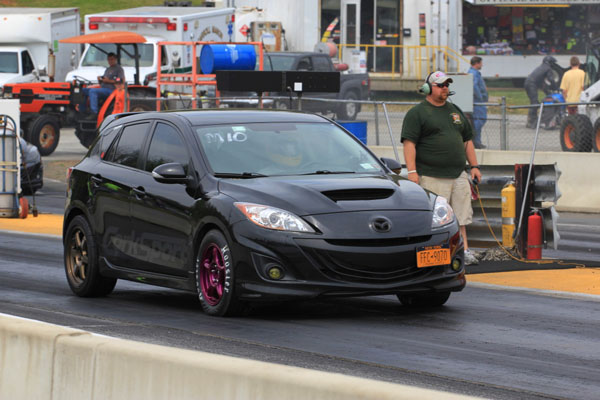 His 2010 Mazdaspeed 3 is his first Mazda, but he has always had a love for cars. Modding took a backseat to raising kids and his work as a local 1 plumber for a while, but his wife of 18 years has been very understanding about his recent affliction of the "mod-syndrome" and all things car related. Now a weekend autocrosser and recent winner of Best Mazdaspeed at the annual Torontomazda3 Forum Meeting of the Mazdas, Steve's work is really starting to pay-off.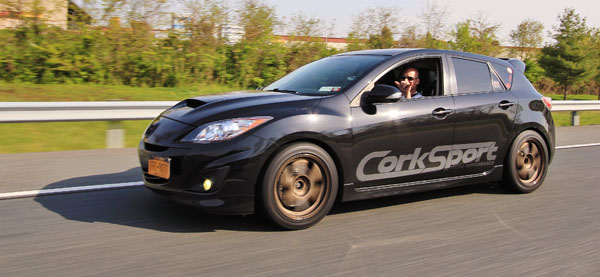 Mazdas handle really well right off the lot, but Steve has spared no expense on perfecting the handling and suspension on his speed 3 adding a CorkSport Coilover Suspension Kit with Camber Plates, CorkSport Front Sway Bar with CorkSport End Links, CorkSport Rear Sway Bar, CorkSport Rear Chassis Brace Set, CorkSport Mid-Chassis Brace, Volk TE37 wheels with Dunlop Star Specs 245/45/17's, and a CorkSport Short Shift Plate and Shifter Bushings.
But just because he has spent a lot of time perfecting the suspension doesn't mean he forgot the go-fast parts with the addition of a CorkSport Downpipe, CorkSport Racepipe, CorkSport Large Core FMIC, Turbosmart BPV, and a custom tune by none other than Rob Finkle (da man) 50% E85.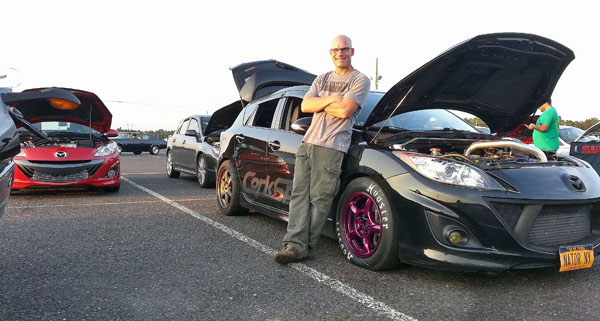 If you've ever been to Storm's OCC All Mazda Meet, you may have met Steve there and if you went last year, you may remember a little prank dreamed up by the local Nator crew with the help of CorkSport as Steve was given the CorkSport Senior Citizen award which he now proudly displays on his fireplace. He may be a little older than some of the crew he hangs with on the weekends, but "old man" Kritzberg is still young at heart!
What's next on the list for Steve's build? Well, big turbo of course!
Full List of Mods:
CorkSport Coilover Suspension Kit w Camber Plates
CorkSport Front Sway Bar
CorkSport Front End Links
CorkSport Rear Sway Bar
CorkSport Short shift Plate
CorkSport Shifter Bushings
CorkSport Rear Chassis Brace Set
CorkSport Mid Chassis Brace
CorkSport Large Core FMIC
Turbosmart BPV
CorkSport Downpipe
CorkSport Racepipe
Resonator delete
James Barone Trilogy MM
Spherical shift knobage
CorkSport Interior LED Light Kit
Next Mod Front Grille Insert
Volk TE37 wheels with Dunlop Star Specs 245/45/17's
Custom tuned by Rob Finkle (da Man) 50% E85