Every day our customers are sharing our products with other enthusiasts, whether it's through forum posts, YouTube videos or the results of their own evaluation of our products. We've seen customer videos and posts about every facet of our products all the way from unboxing and evaluation of our packaging and presentation of the parts and installation instructions. And we love it.
We love it so much that we're working on coming up with a way to reward our customers for sharing our products and generating content for our website. Starting immediately, we will hold a contest for customer generated content that will result in two awards of 25% off on the CorkSport product of your choice (not to exceed $100). One of these will be for video content, the other for a product validation case study. The winners will be announced in July and if we get good response, we'll repeat the contest.
Video content could be a start to finish installation video for one of our products, racing footage, or just a well produced video demoing one or more of our products. Videos should be uploaded to YouTube and tagged with CorkSport Credit For Content as well as the full product name (if multiple in the video, pick the most topical).
Here's a great example: Jeff Ciesielski, one of our local MazdasNW.com members up in the Seattle area is running a sweet little homebrewed Turbo '92 Miata 1.6l, replete with a 50 Trim T3 .42/.48 Turbocharger, BEGi Manifold, 2.5 Straight Pipe Exhaust, 28x7x2.5 Front Mount Intercooler, 450cc Injectors and Megasquirt 1v3.0 w/ HR10g Firmware controlling the spark and fuel. The best part about his car though is the bone stock radiator with fans wired in parallel. He was running into all sorts of cooling issues, constantly kicking the auxiliary fan circuit on after a full boost run when he decided to give our FRP radiator cooling panel a shot. This inexpensive part has the distinct added advantage of cleaning up the engine bay aesthetic, what could it hurt?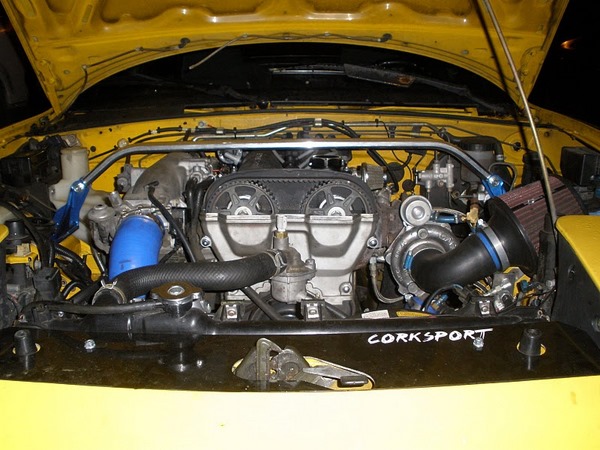 Now, our customers have had great comments in the past on the functionality of these products, but Jeff's configured with the full datalogging MS1 ECU, and decided to do some before/after comparisons evaluating the coolant temps and intake air temps of his system and here's what he found:
"I'm attaching two datalogs from the miata which are tagged by date.
The first one shows the car in a very similar setup(in terms of layout) but running less boost. They were taken in similar ambient temps ( 60 on the first, and 55 on the second) and when it was a bit damp out. My CLTs dropped by around 10 degrees, and whereas my IAT's used to be around 10 degrees above ambient, they now only get around 5 over ambient."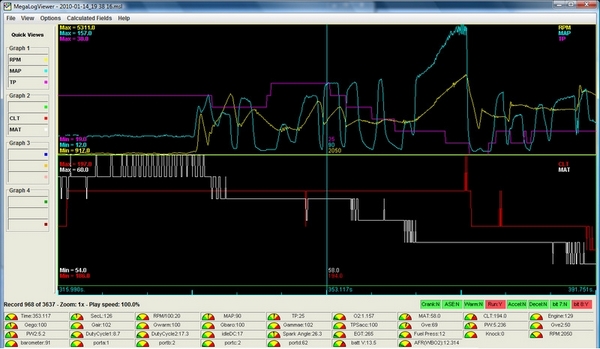 About a month later I pinged Jeff back to find out if he had found repeatability in the results, and it sounds like a good 10 degree coolant temperature variance can be seen with the radiator panel:
"I still haven't managed to get it over 197 even when beating on the car, and much like the earlier log I sent you, it tends to stabilize around 189 when driving, as opposed to the 194-200 it used to be at."
It's great to hear you're having good results Jeff.
We offer radiator panels for the NA Miata, Protege, FC RX-7, and Mazda 3.
We look forward to hearing from our customers.
– Jason