Adding to the success of our Mazdaspeed 3 and Mazda 3 Mud Flaps, CorkSport would like to announce an extension of the CorkSport Mazdaspeed Styling product line with the launch of the all new CorkSport Mazdaspeed 6 urethane mud flaps.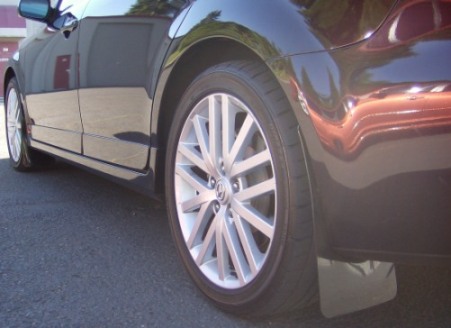 Designed specifically for the Mazdaspeed 6, the CorkSport Mud Flaps offer superior protection against the elements, road debris and high impact rocks that are kicked-up by your tires while also providing your vehicle a streamlined sport look.
The popular CorkSport Mud Flap line is constructed from 80A durometer 1/8" thick urethane and includes a CorkSport logo laser-etched directly into the mud-flap that will never fade or wear off in even the most extreme elements. The adjustable design allows customers to install the rears to match the height of the vehicle and includes a template giving you the option to trim them to your liking.
Unlike rally style mud flaps, these mud flaps are a sleek 10" at the widest point on the backs and 8 ½" on the fronts providing your vehicle the optimum level of protection while maintaining a sport style design.
Demonstrating CorkSport's mission to offer unparalleled service to the Mazda enthusiasts and support every make and model of the Mazda line, this is yet another product offering CorkSport has designed with the Mazdaspeed 6 in mind. The CorkSport Mud Flaps represent just one of the many products that are set to release in the coming months to support the Mazdaspeed 6.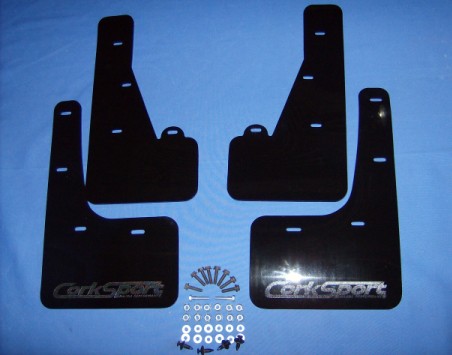 The CorkSport Mazdaspeed 6 Mud Flaps will be offered competitively at $119.00 and include full color installation instructions, all of the needed installation hardware, and a template for customized trimming of the rear's to accommodate the ride height of each individual vehicle.
For more information about these products, please visit CorkSport's online catalog at https://www.corksport.com/corksport-mazda-mud-flap-set-mazdaspeed-6.html