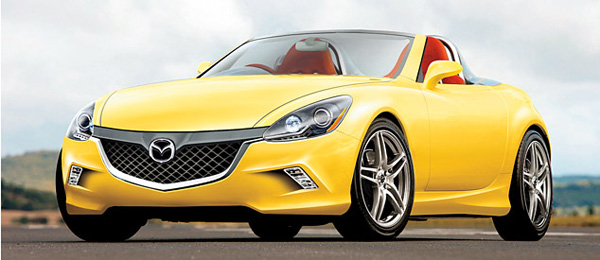 We have blogged about what's to come for the 2014 Mazda MX-5 in the past. At the time it was reported that the MX-5 Miata was going to be lighter than the current model by around 720 lbs and when I reported on this last August, the word was that the MX-5 would come with a 1.5-liter SkyActiv-G four-cylinder engine that would produce up to 160 horsepower and would be mated to a six-speed manual transmission with an option to change to a dual-clutch semi-automatic transmission.
It appears though that Mazda still has not settled on which engine will make its way into the next generation MX-5. Auto Guide reported last month that the engine originally planned for the MX-5 didn't cut it and neither did a version of their current SkyActiv 2.0L four-cylinder engine. The 1.5 did not meet Mazda's performance requirements and the 2.0L didn't have the fuel economy.

So what now? Well it seems that the solution may come in the form of a 1.8L SkyActiv four-cylinder 1.3L or 1.5L turbo-charged engine. The new turbo engine will employ SkyActiv technologies like variable cam phasing with lower friction parts to boost performance and fuel economy and will also be mated to reduced-friction transmissions.
Whichever powerplant Mazda decides on, you can expect the car to produce roughly 150 hp with about a 10-percent improvement in fuel economy from the current MX-5's (22 city/28 highway mpg). The new Miata is scheduled to make a debut by mid-2014 and will be priced under $25,000.
Gwynne-