Looking from the outside, racing really doesn't make much sense. You spend a bunch of money to win some trophies, which are nowhere near as valuable as the money spent on the racing to get it. This leaves most people asking "why?"
I'm here to explain why the people at CorkSport spend the time and energy to go racing.
First, we get access to world-class drivers. I'm not saying I'm not a decent driver, but I'm always learning, just like the best drivers out there. The best example we have is recently hiring pro driver Kenton Koch to do development work on our 2016 Miata suspension.
If you haven't heard his name, you should by now. He's a Mazda development driver and he's won the Skip Barber Series Championship, Skip Barber Mazdaspeed Series Championship, Battery Tender MX-5 Cup Championship, and this last year, the IMSA Prototype Lights Champtionship. This year at the Rolex 24hour in Daytona, Kenton was part of a JDC-Miller PC team that won their class and the first race in the Patron Endurance Championship. This was also the first time he'd raced this car against other competitors. So you can say Kenton is good.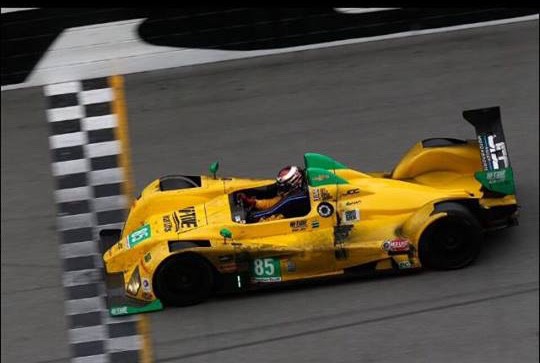 The second thing about racing is you'll break and wear out parts. If you're not wearing out parts, you're not pushing the car hard enough and you're officially a Sunday driver. Brakes, tires, suspension, and motor components are exposed to the worst conditions while racing. A recent example was when I raced at Daytona for the SCCA runoffs. We raced our 2015 Mazda 3 2.5 with all of our parts for an entire week. Every lap we hit a top speed of 139mph, hammering the brake to make corner 1. The intake and exhaust got a massive workout dealing with the full throttle driving for extended periods of time on the embankment of the oval. The CorkSport springs and swaybar were pounded over the curbs on the infield and the bus stop. The end result of the race weekend was zero problems with our parts, even in a worst-case environment.
The third reason is just as compelling to me as the first two reasons: you learn. When I head to the track, I make sure I have a goal in mind of what I want to accomplish ahead of time. For this upcoming year, CorkSport is an associate sponsor of Hale Motorsports Pirelli World Challenge Touring Car effort with two MX-5 TC classed cars and a very familiar Mazda 2 TC B-Spec, which CorkSport built and raced. I've signed on to be a crew chief for the car driven by Joey Jordan, who piloted the CorkSport Mazda 2 last year to four straight 1st place finishes at the end of the Pirelli World Challenge season. We also have a future star in the making. Henry Morse will be driving the Mazda 2 for this season as well, which makes for a busy schedule.
My goal for the season is to develop the skills to operate at the highest level needed by a crew chief in strategy, drive prep, team communications, and operations. Each one of these items is essential inside a team to be effective and win a championship.
Now that you know, what do you think? Do you understand why we race? Feel free to post your comments here on the blog and I'll make sure I reply back personally.