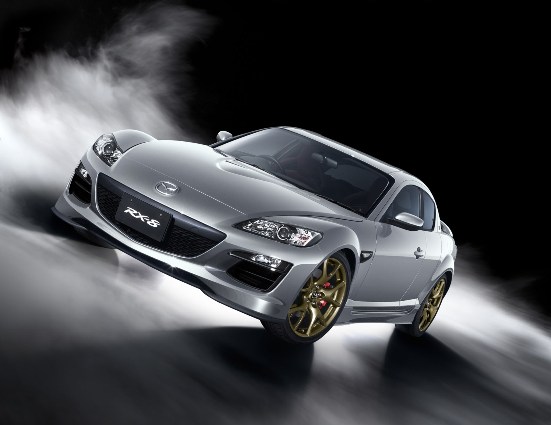 Named after the final limited edition Mazda RX-7, Mazda will be commemorating the end of the Rx-8 with a final special edition model, Spirit R, that will go on sale in Japan only on November 24th of this year. The manual version of the Mazda RX-8 Spirit R is based on the RX-8 Type RS and the a six-speed automatic will be modeled after the Type E.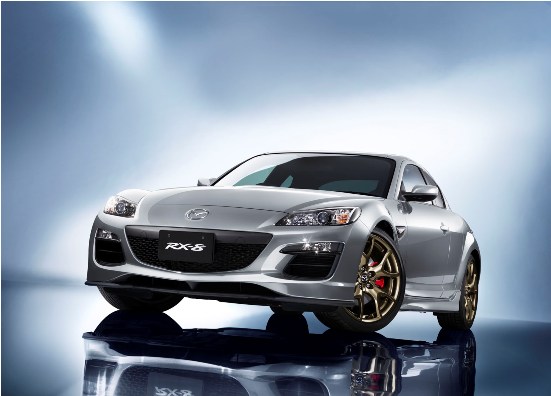 Both of the new models will feature an exclusive SPIRIT R badge, black bezels for exterior lighting, red front and rear brake calipers, and a piano-black transmission tunnel trim. The manual transmission will also include special bucket seats from Recaro and bronze 19" alloy wheels with 225/40R19 tires whereas the automatic will feature black leather seats, steering wheel and parking brake lever that feature red stitching, a sports suspension, larger brakes, and Gun-metal finish 18" alloy wheels with 225/45R18 tires.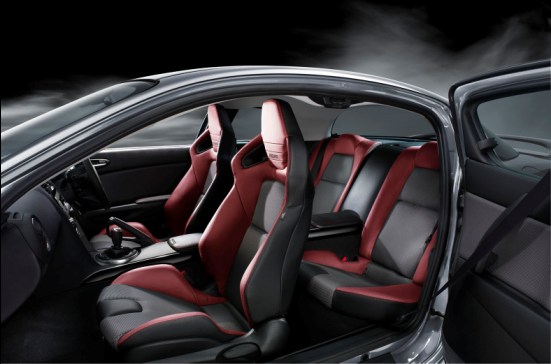 "Although RX-8 production is ending, the rotary engine will always represent the spirit of Mazda and Mazda remains committed to its ongoing development." Said Takashi Yamanouchi, Mazda's Representative Director, Chairman of the Board, President and CEO, in a press release from Mazda, giving glimmer of hope for rotary fans that development for the RX-7's successor is still on the table at Mazda headquarters.
Mazda expects to sell 1,000 units of the limited edition model before the Mazda RX-8 production ends in June of 2012. Prices start at $40,675 with the six-speed automatic transmission and $42,400 with the six-speed manual.
Mazda's rotary engine history
1961 Jul Signs a technical contract with NSU and Wankel
1967 May Announces the completion of the rotary engine and introduces the Cosmo Sport 110S
1968 Jul Introduces the Familia Rotary Coupe/Mazda R100
1969 Oct Introduces the Luce Rotary Coupe/Mazda R130 Coupe
1970 May Introduces the Capella Rotary/Mazda RX-2 series
1971 Sep Introduces the Savanna Rotary/Mazda RX-3 is introduced
1972 Nov Introduces the Luce Rotary/Mazda RX-4 series
1973 Jun Cumulative production of rotary engine vehicles reaches 500,000 units
1975 Apr Introduces the Roadpacer
1975 Oct Introduces the Cosmo AP/Mazda RX-5
1977 Jul Introduces the Cosmo L (Landau top)
1977 Oct Introduces the Luce Legato/Mazda 929L
1978 Mar Introduces the Savanna RX-7/Mazda RX-7
1978 Nov Cumulative production of rotary engine cars reaches 1 million units
1981 Nov Introduces the new Cosmo and Luce/Mazda 929 rotary series
1986 Apr Cumulative production of rotary engine vehicles reaches 1.5 million units
1986 Sep Introduces the fully redesigned Luce
1990 Apr Introduces the Eunos Cosmo featuring a three-rotor rotary engine
1991 Jun The Mazda 787B wins the 59th Le Mans 24-Hour endurance race
1991 Dec Introduces the fully redesigned RX-7
2002 Mar Introduces the SPIRIT R final limited edition Mazda RX-7
2003 Apr Introduces the Mazda RX-8
Gwynne-