If you have been keeping up with our newsletter or blog posts, you probably already know that we will be hosting a track day in Texas this November, but you didn't know all the details. Well, today the suspense ends! CorkSport, with the help of Texas Mazda Speed Demons and Roger Beasley Mazda, will be hosting a track day on November 3, 2012 at Harris Hill Raceway from 9am-6pm.

Harris Hill Raceway (H2R) is located in the hills of northeastern San Marcos, Texas, just 26 miles from downtown Austin and about 55 miles from downtown San Antonio. The track is a 1.82-mile, 11-turn asphalt road course. The course is 36-feet wide with over 150 feet of elevation changes and within the 11 turns there are increasing radius turns, decreasing radius turns, positive camber, negative camber (and one turn that has both within the same turn!), one long sweeper, several blind corners, and an 80-foot rise-and-fall in one turn.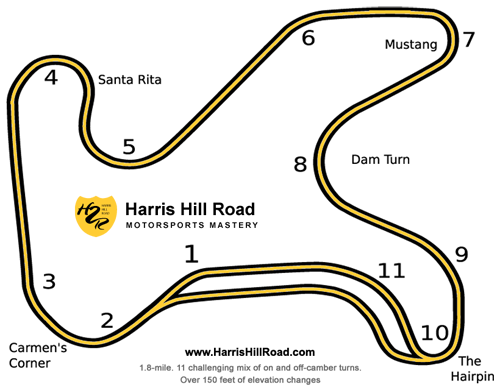 CorkSport will be offering lead/follow track time between 9am-6pm that includes 5 laps on the track for just $25.00 pre-paid and $35.00 the day of the event. In addition, our co-sponsor, Roger Beasley Mazda will have some expert drifters attending to provide a drift demonstration and EMS Powered will be on hand with their dyno chassis to provide dyno runs (three pulls for $50).
If your not that interested in all that stuff (are you crazy?!) then you can always just come park your car, enjoy the show, and hang with other like minded Mazda enthusiasts!
For more information about the event or to pre-register today, please visit our event page online at https://www.corksport.com/corksport-harris-hill-event.html