So you want to become a professional racecar driver. Awesome plan, I mean who doesn't right? But where do you start? The answer is Mazda.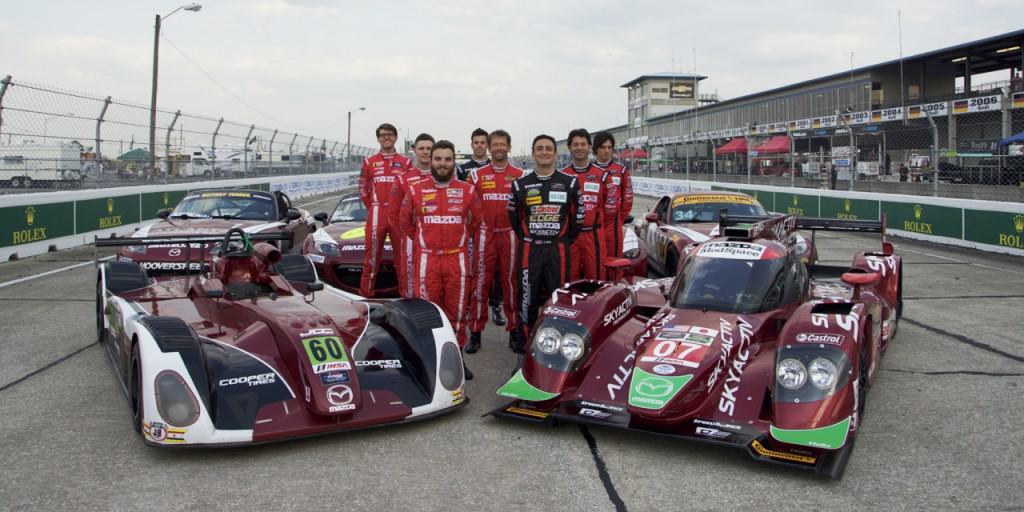 Hop on Craigslist and start looking for a car. You're going to need a good solid platform to start with and something that's easy to work on. A car that is relatively inexpensive, easy to find parts for, super reliable, and can give you the best driving experience along with great aftermarket support for future upgrades. BAM you just bought your '91 Miata racecar. A car that has everything you need and then some.
First things first, you need to make sure it's safe and in tiptop shape to handle the abuse you're about to put on it. Go on the hunt for pieces you need to replace like brake pads, shocks, and maybe a wheel bearing or two. Don't settle for some cheap aftermarket pieces. You are going to be racing this car and don't want to lose a track weekend because of premature part failure. You need OEM top notch quality.
Mazda was the first company to offer a support program for their grassroots racers. The Mazdaspeed Motorsports Development program sells OEM parts to drivers at cost in order to keep them on the track longer. If you provide them with at least two current race results within the past 12 months you can join the program and reap the benefits they have to offer. Along with parts, you also have access to trained employees and other racers who can provide help and guidance.
Once the car is ready to go, you need a place to go racing. Mazda has partnerships with some of the largest sanctioned racing bodies such as SCCA Solo, NASA, and SCCA Club Racing. With over 20,000+ racers, it's easy to see why more Mazdas are raced on any given weekend than any other brand in the world.
So you have been racing for a year or two and you're ready to take it to the next level. Introducing the Mazda driver development ladder system, the one and only true program to help guide you from the grassroots level of club racing to the high ranks of Indy lights. If you really have what it takes, the skill and the character that Mazda embodies, you may be lucky enough to find yourself in the cockpit of a Mazda prototype racing in the Tudor United Sports Car Championships, the most prestigious road racing campaign in North America.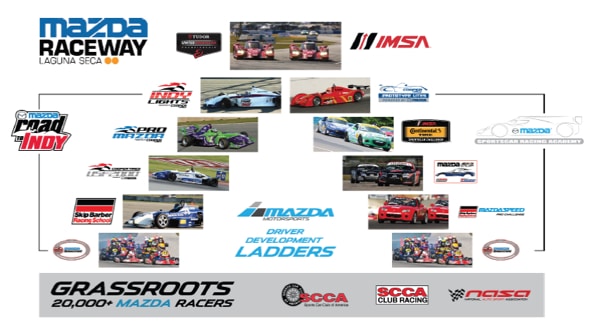 We all know racing is expensive. The cost of gas, food, entry fees, and travel can add up quickly during a regular season. Who can help you pay for these things? Mazda of course. As a competitor in the Mazda ladder system, you have the ability to compete and earn scholarships worth thousands of dollars to help you pursue your dreams. Imagine winning the run-offs or the MX-5 cup and being awarded a grant to help fund your racing expenses. Now that's what I call support.
Mazda also created the R.A.C.E program in 2014 to help motivate and engage the next generation of STEM (science, technology, engineering, and math) professionals. They dedicated a whole program to developing young minds and helping them pursue their dreams even if it has nothing to do with racing cars. You can't tell me that is not cool.
Mazda is the true racers brand. From mentoring to scholarships to the various after school programs they have invested in, no one is as committed to the driver as Mazda is. They breed the next generation of racers. A brand built by the people for the people. The reason #DrivingMatters.
Happy racing,
Vincent
Sources: