Now that the warm weather is upon us, event season is in full swing and CorkSport has plans for some big events in the coming months that we would like share with you.
CorkSport and MazdasNW Sizzlin Summer Event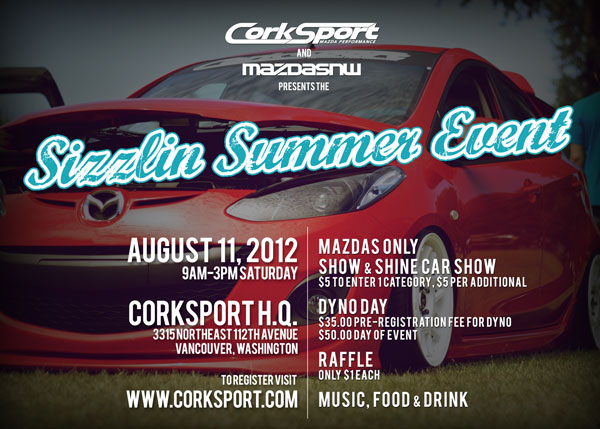 Our first upcoming event is the CorkSport and MazdasNW Sizzlin Summer All Mazda Meet on August 11, 2012. The event being headlined by CorkSport Mazda Performance and MazdasNW will also be featuring sponsors Solar Eclipse Window Tinting, Alan Web Mazda, and CarMedic.
It will be taking place from 9am-3pm on August 11, 2012 at the CorkSport Mazda Performance headquarters located in Vancouver, WA and will include a dyno day, show & shine and raffle and will also feature an appearance and dyno run from arguably the highest horsepower Mazdaspeed 3 to be dyno'd to date.
Over one hundred Mazda owners from as far north as British Columbia to as far south as California attended last year's event making it the largest all Mazda event held in the Northwest and we expect this year's event to be even bigger and better than last year!
The cost to attend will be just $5.00 per vehicle which includes one entry in the show & shine and a swag bag. Additional entries into show & shine categories will go for $5.00 per entry. Food and drink will be available for purchase and raffle tickets can be purchased for $1.00. For attendees interested in dynoing their vehicle, three pulls will be just $35.00 in advance and $50.00 the day of the event.
Please pre-register today and let us know if you will be participating in the show and shine, plan to dyno, or are just coming to hang out with the crew. Anyone who pre-registers will also recieve a CorkSport swag bag and it will help us plan for parking for the event. We are currently accepting registions at CorkSport's website at https://corksport.com/corksport-sizzlin-summer-event.html.
CorkSport Invades Texas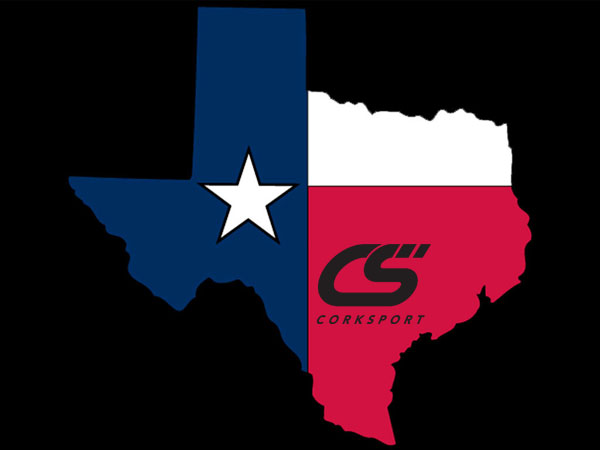 The next event we are excited to announce will be held at Harris Hill Raceway in San Marcos, TX. In collaboration with CorkSport customer and sponsored drivers, Matt Kellogg and his new Mazda club, the Texas Speed Demons, CorkSport will be hosting a track day and car show on November 3, 2012 from 9am-6pm.

Details on this event are being finalized and more information will be made available in the coming months, but mark this date on your calendar if you are in Texas, around Texas or can make it to Texas, because this one is going to be a biggie!
If you want updates on our Texas event, please click here to get added to our info list and details will be emailed to you as they become available.
Gwynne-