Servicing your OCC
   We at CorkSport hope all of you are staying safe, warm, and happy during this winter season.  As the weather changes, so do components in your Mazda.  Making sure to take the time to properly do some maintenance on your Mazda will go a long way. Whether you own a Mazdaspeed or an NA Mazda, I wanted to make sure and take a little bit of time for you guys to explain how to service your CorkSport oil catch can, and why that is important as the weather starts to become colder.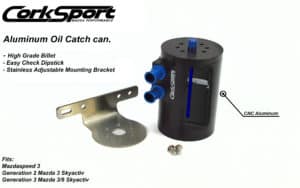 Why Use an Oil Catch Can
Having an oil catch can on your Mazda is always a good idea.  Over time, the engines will start to wear down allowing oil to blow by the piston rings.  Due to this, you can have oil pass back into your intake causing unwanted smoke to come out of the tailpipe.  Keeping that oil from contaminating the engine will result in a much cleaner engine over time.  
Also, having an OCC on your car is a good way to tell if you have internal engine issues, or if you have a bad PCV.  We recommend draining your catch can every oil change.  If you see a bunch of oil in your catch can, then you know, it's time to start looking into why the can is filling up with oil.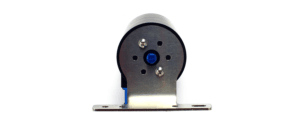 Servicing Your Catch Can for Winter
     Making sure to catch all the nasty vapors an engine puts off is an important thing to do in regards to longevity of the engine.  However, making sure the CorkSport OCC is working properly is just as important.  The reason why this is important is that you want to make sure your oil catch can continue to filter out the nasty vapors otherwise you will dirty up your engine faster than you want.  However, it is very easy to maintain a good working oil catch can.  
Follow these couple steps below on getting that catch can back up to a new status:
Remove top dipstick

Remove bottom plug

Spray Brakleen through dipstick hole

Allow draining

Repeat a couple of times to ensure your can is clean

Check all rubber hoses.  Make sure none of them are cracked or look dry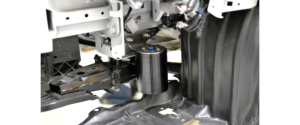 Why You Should Service Your Oil Catch Can
   Even though oil/gas takes really cold temperatures to freeze, water vapors still make it into the system which most definitely can freeze.  The last thing you want is to have your oil catch can no longer able to catch the nasty vapors the engine puts off.  
If you have a frozen can, those will pass by the baffle and make it into the intake.  Make sure to drain that OCC, and continue to drain it every time you change your oil.  As long as you do that, there should be no problem with having your catch can freeze, or getting too dirty.  
Be sure to check in with us and see other tips and tricks for your Mazda.
Keep on driving Mazda fam!
Cheers,
Luke