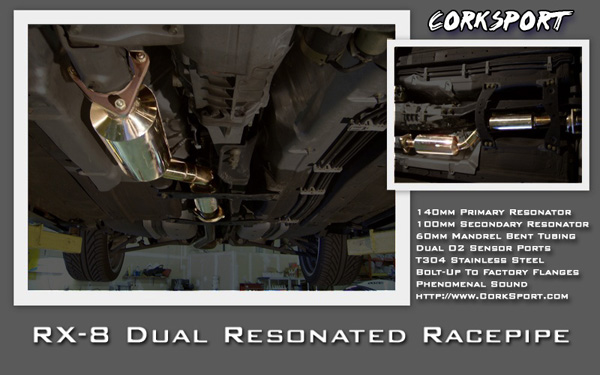 The last week has been a lot of fun here at Corksport. We have been working on developing a cure for High Decibel Situational Tourettes Syndrome, which effects a certain percentage of enthusiasts who run a non resonated racepipe in their RX-8.
Our latest solution is a dual resonated Power Series Racepipe for the '04-'10 RX-8. Incorporating a 140mm primary resonator and a 100mm secondary resonator with 61mm exhaust tubing, the resonated racepipe improves exhaust flow dramatically while keeping the decibels at a level reasonable enough to avoid spontaneous profanity from drivers and spectators alike. Think your racepipe is too loud? Check out this video clip of the Power Series Dual Resonated Racepipe and with Power Series Cat-Back Exhaust on our '04 RX-8 and let us know what you think:
Like all of our Power Series exhaust products, the Dual Resonated Racepipe for the RX-8 incorporates only the highest quality materials and manufacturing methods.  Featuring T304 stainless mandrel bent tubing, stainless oxygen sensor fittings (one for the stock oxygen sensor and a secondary unit for the use of a Wideband O2 monitoring & datalogging system), T304 resonators and flanges. All connections are TIG welded with 308 stainless rod to ensure good weld penetration and attractive finish on the weld bead.
We're hoping to get a handful of these systems out on the street in the next month and we'll keep you posted as soon as they're available to the public.
We're also entertaining the possibility of incorporating a high flow catalyst into the system to keep emissions to a minimum.  This will be a 108mm spun metallic substrate catalyst replacing the secondary resonator.  If this is something that would interest you, let me know by dropping me an email.
Next week: Short Ram Intake Cold Air Box Performance Results & Analysis for the Mazdaspeed 3 and 6.
– Jason