Whoa! How could we say that?? The Mazdaspeed 3 is one of the most cherished Mazdas ever created and CorkSport is one of the biggest aftermarket manufacturers of performance parts for all Mazdaspeed models so why would they possibly make that statement? I'll tell you. The Mazdaspeed 3 uses some of the worst motor mounts Mazda has ever made attached to one of the best engines they have ever made. Just about all stock motor mounts on production cars are compromises. They need to hold the engine securely but also keep noise, vibration and harshness (NVH) from being transmitted into the passenger cabin. To achieve this goal, many manufacturers turn to rubber. In doing that, the compromise is that while the cabin is a more relaxing place for the passengers, the engine is also in a relaxing place and allowed to move much more freely. In a front wheel drive car with a performance engine, flexible motor mounts can cause a host of problems including: wheel hop, hesitation, poor handling and poor turn in.
That is a fairly common issue among auto manufacturers and would have been excusable if the Mazdaspeed 3 didn't also have another fatal flaw: the motor mounts simply do not last. We have seen failures on stock motor mounts on cars with fewer than 30,000 miles! The rubber is soft and even simple bolt-ons can destroy them. You can see the stock mounts and see the issues that can arise with them.
With many of our customers making much more power than stock, we needed to come up with a new way to mount some of these powerful engines. We started with our rear mount. We used a factory style mount with a much improved urethane and a much larger thrust surface that allowed us to support the engine much better while transmitting very little extra NVH to the cabin.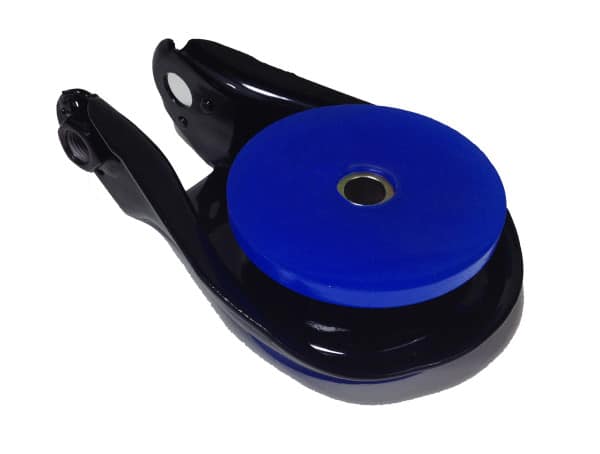 Now we've designed our Passenger Side Motor Mount with those same ideals in mind. Designed to withstand serious abuse, the CorkSport Passenger Side Motor Mount is crafted from billet aluminum and performance urethane and uses top grade hardware to make sure you are covered at any power level all while allowing you to have a conversation and use your rear view mirror!
For those of you who want a big improvement with just a small investment we also crafted performance urethane inserts for many of the stock mounts, including the new transmission mount insert we are offering soon.
So… Maybe Mazda didn't ruin the Mazdaspeed 3, maybe they just made one too many compromises for many of us. Wheel hop and poor handling can be a serious problem with a powerful front wheel drive car like the Mazdaspeed 3, luckily, CorkSport is here to help. Keep checking this blog for important new product releases and tips for getting the most out of your Mazda.
Cheers,
Joel