I recently received an email from a customer who asked me "I have heard the intake you sell is illegal, is this true?" That is a valid question to ask of any part manufacturer who offers aftermarket performance products.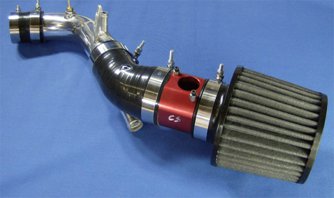 On a federal level the EPA regulates the auto manufacturers which sell new vehicles in the United States. The EPA doesn't look at which intake you have installed into your vehicle and thus there really isn't any guideline to look at or follow.
On a local level, states, counties, or cities can regulate automobiles their own way, and their rules can vary. At a state level it can really vary. In the state of Washington our vehicle inspections for emissions consist of plugging in the vehicle for 1996-newer models to see if there are any check engine light present or pending. If the cars ECU gives a green light to no problems and the system readiness check has been passed you are given a pass. With our intakes being engineered and tested to meet the requirements of the factory ECU they will pass a plug in emissions test.
Some states do a visual check of emissions components and a tailpipe check in addition to checking the factory ECU to see if the computer has any check engine codes. With visual inspections it really comes down to the rules set by your state. Some states are fine with bolt on modifications like intakes and cat back exhausts. Some are not which means you need to check with your local emissions testing facility.
The tailpipe test consists of an exhaust gas analyzer checking the exhaust output of your vehicle and making sure the hydrocarbons, carbon monoxide, and nitrogen oxides are within EPA specifications. There is a small range of particles which are allowed. If the numbers are higher that what is allowed you will not pass the test. Intakes can also affect the tailpipe emissions if they are engineered improperly, and can cause the engine to run outside is original parameters. CorkSport intakes, because of all the testing we have put into them should cause no problems with the tailpipe test.
Now for the tough guys: California. California has its own emissions guidelines which is called CARB or California Air Resources Board. CARB has guidelines which are very strict for any modifications which can affect engine performance. To be a legal product for California the part must have an executive order number. Currently CorkSport intakes do not have an EO number. We are working on CARB certification for our intakes, so don't worry California customers, we're thinking of you!
If you have any questions about whether or not your intake is legal check with your local state emissions station to see what they have to say.
– Derrick