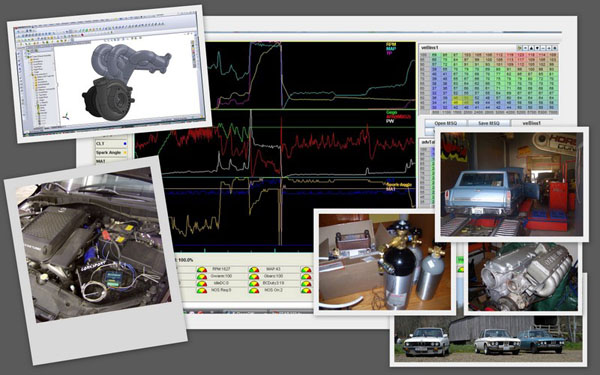 I mentioned last time that I'd tell you all a little bit about myself during my next blog post, so here it goes. My name is Jason Griffith, I am the new product development engineer here at Corksport. I am dedicated to streamlining our product development and expanding our ability to bring a wider variety of products to market while continuing to improve and promote our long time quality at a reasonable price.
I'm an all around car guy, worked in the aircraft and robotics industries for the last five years and I'm glad to finally make it into an industry that I have been passionate about for years as an enthusiast. Over the last 10 years I've built a few interesting cars and have really enjoyed the challenges and dynamics of standalone engine management and forced induction applications.
Some of the things I do in my spare time are design over-the-top intercooling systems, engine speed / angle and phase sensors for adapting aftermarket EMS' to older engines with distributor ignitions, and working on friends cars (last few were a 1JZ powered '80 Corolla and a Z31 Nissan w/ VG30DET running a Holset HX40W off a Cummins Turbo Diesel).
Some of my other goals here are to increase the number of mechanical parts we carry by using state of the art CAD and finite element analysis software. I'm an avid SolidWorks fan and I love designing machined parts for function and form.  My personal opinion is that form should always follow function, but that doesn't mean that well designed systems shouldn't look the part in the process.
I'm also a total geek when it comes to testing and control systems – I love designing mechanisms for measurement and systems analysis.  From thermal datalogging systems to model intercooler efficiency and behavior over time and temperature variation to mechanical measurement systems for mapping camshafts and understanding piston kinematics – I simply love learning.
Which is the other reason why I am here, not only do I love to challenge myself with new exciting opportunities to increase my fabrication skills and familiarity with Mazda, but I also love bringing out the engineer that lurks within every enthusiast.  We are creative beings and automotive design and tuning puts creativity and applied engineering into the hands of each and every one of us.  Working on cars and trucks made me decide to go back to school and become a design engineer and I have enjoyed every moment of it.
I've got parts to design, talk to y'all soon.  Feel free to drop me an email with any questions or thoughts you may have for new product development – we're going to add a section to the website for product idea submission in the next quarter as well.
– Jason