We have had our 2010 MazdaSpeed 3 for a little over a year now. During that time, we were able to come out with some very popular performance products to increase horsepower such as our downpipe, racepipe, cat-back exhaust, and 50 state legal Short Ram Intake System. We have also came out with several products for the suspension and exterior of the car including a one-piece aluminum skidplate, a 3-way adjustable rear sway bar, a quick-release rear chassis brace, and eyelids.
Moving forward with product development, we have several parts that are ready to be released, or are nearing their release date. For starters, our popular Ram-Air style Front Mount Intercooler Kit has been redesigned and optimized for the 2010 MS3. The kit utilizes the stock hood scoop as the location for the air intake, which also uses the stock shroud. The kit is able to decrease pressure drop, while also increasing efficiency over the stock top mount intercooler.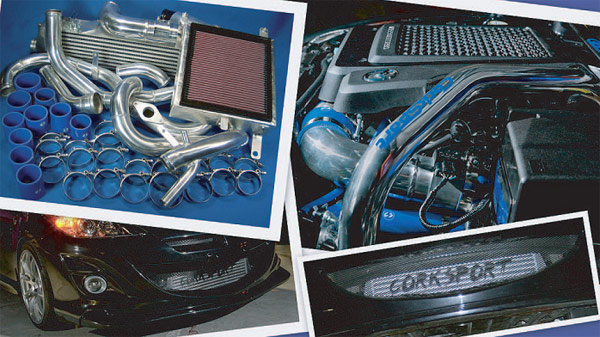 The next part nearing completion is our Lightweight Crank Pulley. It shaves two pounds off of the stock pulley's massive 4.40 pounds of rotating mass. Eliminating rotating mass does not add horsepower, but simply frees up existing power. The blue anodized aluminum pulley has a steel trigger wheel and comes balanced. The kit also includes all the necessary timing tools for the installation.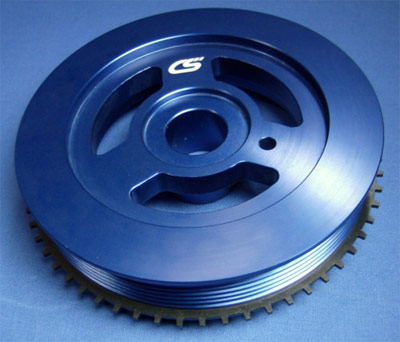 Available within the next 2-3 weeks will be our CorkSport Mudflaps. They will feature thick, durable die-cut polyurethane and come with all the necessary mounting hardware and installation instructions.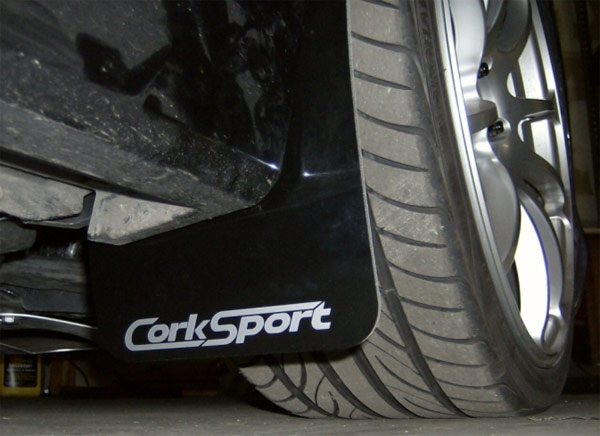 Another product we have in the works is a 2-way adjustable front sway bar. It will be a welded one piece design with laser cut arms and a hollow cross tube. This part was designed to match the rear sway bar we already sell, with the adjustability to match your specific driving style.
The final product we have ready to release is a 4 bar rear chassis brace. This chassis brace kit will include our quick release rear chassis brace and three other braces to tie the entire rear end together to resist chassis flex in every direction.
Look for these products and more in our New Products section on our webpage.
– Jake