It's not often that you come across women that take the modified car scene seriously, but if you're a female and know your way around your car, from installing a performance exhaust system to spending your weekend's auto-crossing, there's a place for you in the performance world too.
Domenique first became interested in Mazda performance when she went to the NEPOC meet in 2009 with her boyfriend Jordan in his RX8. She was immediately attracted to the great cars at the Spring Clean Meet and met some great people that turned her on to a whole new world of modding and performance. By June of 2009 she was hooked and knew that she needed a Mazda of her own to mod.
Initially Domenique wanted a Mazdaspeed 3, but when she saw the 2011 Mazda 2 Sport, she fell in love. "The car was the perfect size. I loved how light and small it was and how well it handled" said Domenique, "This was my first manual, but the Mazda 2 was so easy drive, it was cake to learn."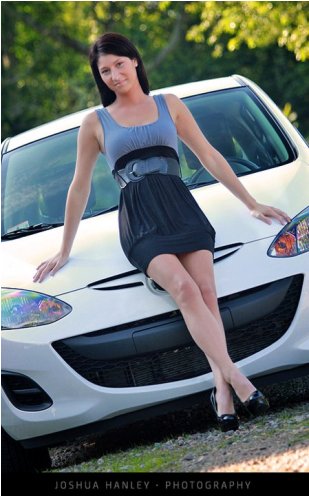 Wheels and lowering springs were the first priorities on Domenique's list when she began her new project car. After talking with one of our CorkSport experts, she settled on the H&R springs and also decided to purchase a CorkSport Rear Torsion Bar to add much needed roll resistance to the rear of the Mazda 2.
"What an improvement in handling!" said Domenique, "The car not only looked much better, but the handling got much tighter and the turn response improved greatly."
She decided to go with 15's on the wheels to keep the weight of the car down and went with powder coated Kosei K1's 15×7 with a +27 offset.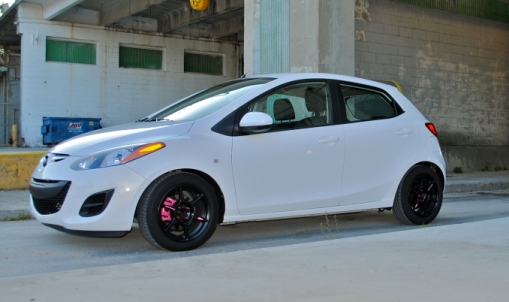 As her first power upgrade, Domenique installed a CorkSport Short Ram Intake which gave the car a noticeable gain in power and a nice grunt to the engine and has since added a Power Pulse Muffler Exhaust.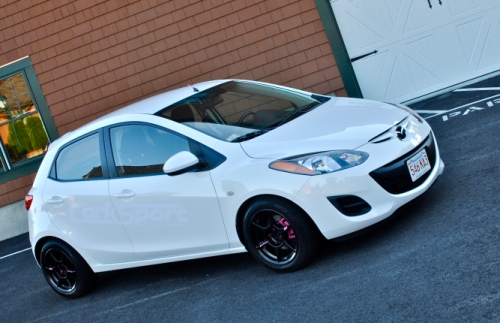 Future projects include a CorkSport Lightweight Crankshaft Pulley, CorkSport Front Strut Bar, CorkSport Rear Chassis Brace, tint, and a sound system.
Domenique's new love for car modding has translated into another new love for autocrossing. On August 20th, she took the MZ2 out for the first time Auto-crossing at Renegade Miata and learned just what the car was capable of.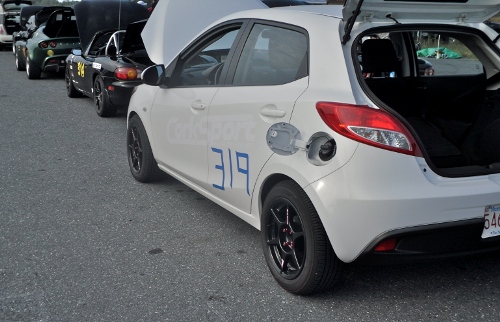 "I never really thought I would have been so interested in customizing a car. I guess I can blame it on my boyfriend, in a good way of course," says Domenique, when asked about becoming a car enthusiast, "I love to go to shows and now my goal is to get better at Auto-Crossing."
If you want to keep up with Domenique's new and upcoming Mazda 2 projects, you can follow her progress on her blog, https://piinkdem.blogspot.com
Gwynne-