Our customers are our lifeblood. We live by this understanding each and every day and appreciate that you put your trust in CorkSport products and choose CorkSport brand parts for your Mazda performance needs. Proof? Many of you may get a sense of this from the quality of our customer interactions. Hopefully, you find our staff easy to reach, courteous, helpful, and knowledgeable.
From our transparent shipping costs and our dedicated staff and customer service, to our rewards program for our loyal customers, and customer collaboration efforts, we want to demonstrate how grateful we are for your business each and every day.
I'd like to take this post as an opportunity to expand on the customer collaboration concept. We've mentioned this before, but it's worth revisiting with a fresh example.
We've conducted numerous focus groups with our customers. In those groups we've discussed how our customers want to be involved in the product development process. Overwhelmingly we've been told you want to see the development process. You want to see what's in the pipeline and have a chance to give feedback on the design. Our best most recent example of our efforts to expand our customer's role in the product development process is our soon to be released camber plates for Mazdaspeed3.
Our knowledgebase is a repository for all sorts of information. For the camber plate development process, we've posted several articles in our knowledgebase. Brief summaries are presented below. The interested reader can view each article for more details.
Article 1:
The idea for camber plates came from two customers, Eric & Todd, who turned in product ideas. Our staff reviewed the merits of their suggestion and decided to pursue it.
Article 2:
Our initial design concept was posted for feedback.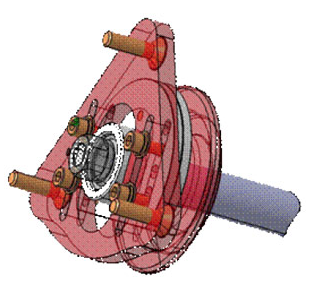 Article 3:
Prototype parts were made from the drawings. Ordinarily we'd make one set for testing. This time, we made several extra sets so that if Todd and Eric wanted to get involved in Beta testing, we were positioned to take advantage of the opportunity. After installation and testing in house, Todd took us up on the offer to test a set of the camber plates.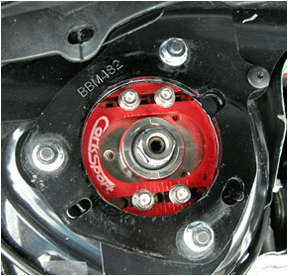 Both Todd and Eric gave us great feedback and even hit the forums and started a discussion. We learned that many people were apprehensive to cut their strut tower to allow for camber adjustment. From our experience we are comfortable cutting sheet metal on a brand new car, understandably many people are not! We returned to the drawing board with the intention to eliminate that requirement. Success!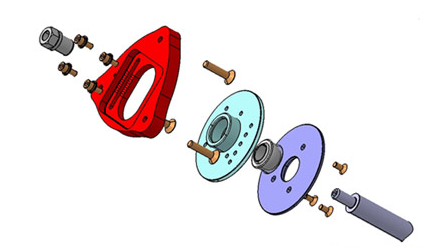 Article 4:
The biggest problem we had to resolve at this point was spring interference when using the Mazda Genuine struts. This limits negative camber to around -1.5 degrees. We solved this problem by revising our recently released lowering springs to have a tighter wound coils up front.
In summary, we made these changes to the original design as a result of our collaboration efforts with our customers:
• Recessed design to remove the requirement to enlarge the hole in the strut tower.
• Larger strut bolts to reduce camber variation from removal and reinstallation.
• Longer strut bolts to allow for strut brace installations.
• Custom lowering springs to allow for more than -1.5 degree which is limited by the factory chassis using struts.
We expect to release the camber plates and revised lowering springs in early 2012.
Thank you to everyone for their feedback. Special thanks to Todd and Eric for their participation in the development process.
Rich-